Aydon Castle is built on a steep hill, overlooking the Cor Burn valley, to the north-west of Aydon Village in Northumberland. Although called a castle, Aydon is actually a medieval fortified manor house built in the late 13th and early 14th centuries.
After undergoing extensive restoration works in the mid 1960's it is now one of the finest and most complete 14th century manor houses in England.
The castle is made up of four distinct parts; the outer, middle and inner courtyards and the orchard. To the north and west there is a curtain wall with a deep ditch in front.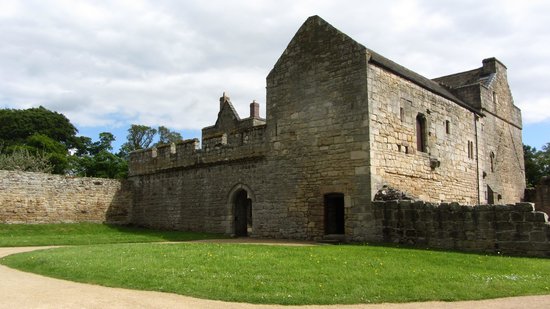 The main entrance to the outer courtyard is a simple archway and agricultural buildings stood to either side of it. The middle courtyard housed guests or soldiers in a lodging block that was demolished in the 1540's.
The manor house stands within the inner courtyard. When it was first constructed access to the house was up a flight of stone steps but once the house became fortified additional doors were made on the ground floor. The hall was located on the first floor of the manor house and the kitchens were to the west of it.
For over 300 years Aydon Castle was used as a farmhouse until it was taken over by the Ministry of Works in 1966.
Aydon Castle is now maintained by English Heritage and under normal circumstances is open to the public from Thursday – Monday from late March to the end of September.