Perched on top of a volcanic rock overlooking the River Forth, Stirling Castle is one of the most impressive castles in Scotland.
There is archaeological evidence that there was a settlement here as far back as the 7th century and it is thought that the Romans may also have recognised the importance of the site and had a fortress here.
Probably best known for its place in the Braveheart story, the castle has a rich history having been attacked on several occasions. It has also seen the baptisms and coronations of a number of Scottish Monarchs including Mary, Queen of Scots.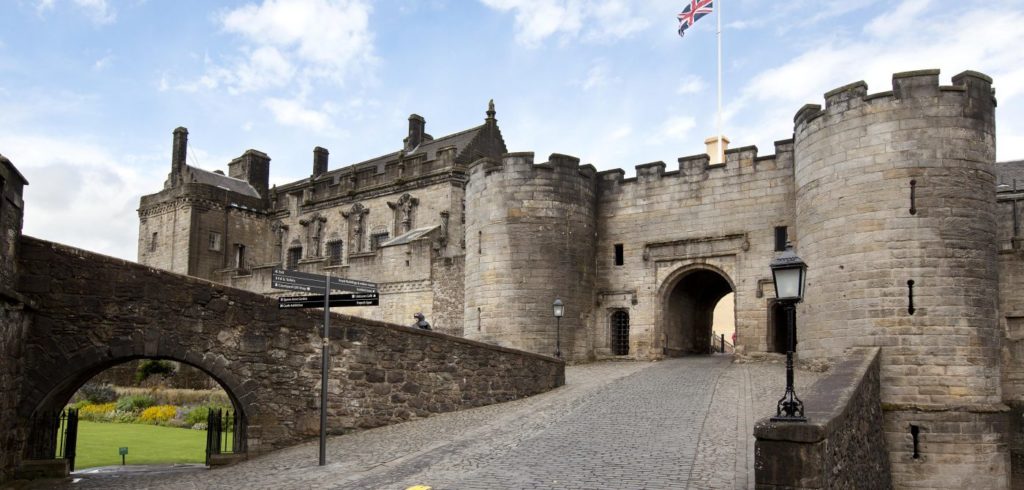 Most of the buildings that remain today were constructed between the 16th and early 18th centuries.
King James IV built the gatehouse that leads from the outer bailey to the castle. The gateway was flanked by four circular towers. Today only the southern Prince's Tower, the gateway and part of the curtain wall remain.
To the east of the gatehouse, is the 125 feet long, 36 feet wide, great hall, the largest medieval banqueting hall in Scotland. The impressive Palace block, built by James V, is to the left of the gatehouse and combined renaissance and gothic detail.
The regimental museum of the Argyll and Sutherland Highlanders is located within the castle.
There is a project underway at present to recreate the furnishings of the castle in 16th century style.
Today, the castle is under the care of Historic Scotland and is open to the public daily throughout the year. For opening times, admission fees and other information please visit their Stirling Castle pages.