Bodiam Castle seems to rise up out of a still, peaceful lake, and is a beautiful example of a late medieval moated castle.
"Picture-perfect" is a term often used to describe Bodiam Castle––and why not? The solid structure seems to rise up out of a still, peaceful lake and stands as an interesting example of one of the finest late medieval buildings. Despite this serene beauty, and the minimal amount of battle it managed to see since its original construction over 600 years ago, there remains an air of mystery to this stronghold.
Located near Robertsbridge, East Sussex, on the southern coast of England, Bodiam Castle lies in picturesque ruin. Its history is storied. Its grounds, masterful. But is there more to this fortification than meets the eye?
The history of Bodiam Castle, a Medieval Castle
Bodiam Castle was built in 1385. It was the project of Sir Edward Dalyngrigge, who was known historically as a knight in the court of King Edward III. As the youngest male in his family, and therefore last in line to inherit any property, Dalyngrigge married into a clan of wealthy landowners and eventually became the owner of the manor at Bodiam, a small village and civil parish in the Rother District of East Sussex.
It was around the time of this inheritance of land in 1379 that Dalyngrigge, bolstered by his status as the king's knight, became one of the most respected men in the county. As someone with such pedigree, Dalyngrigge also managed to secure enough money to build a home for himself and his family that carried with it enough grandeur fit for so worthy an owner.
Built near the River Rother, the castle's foursquare structure marked a change in the way castles were being used.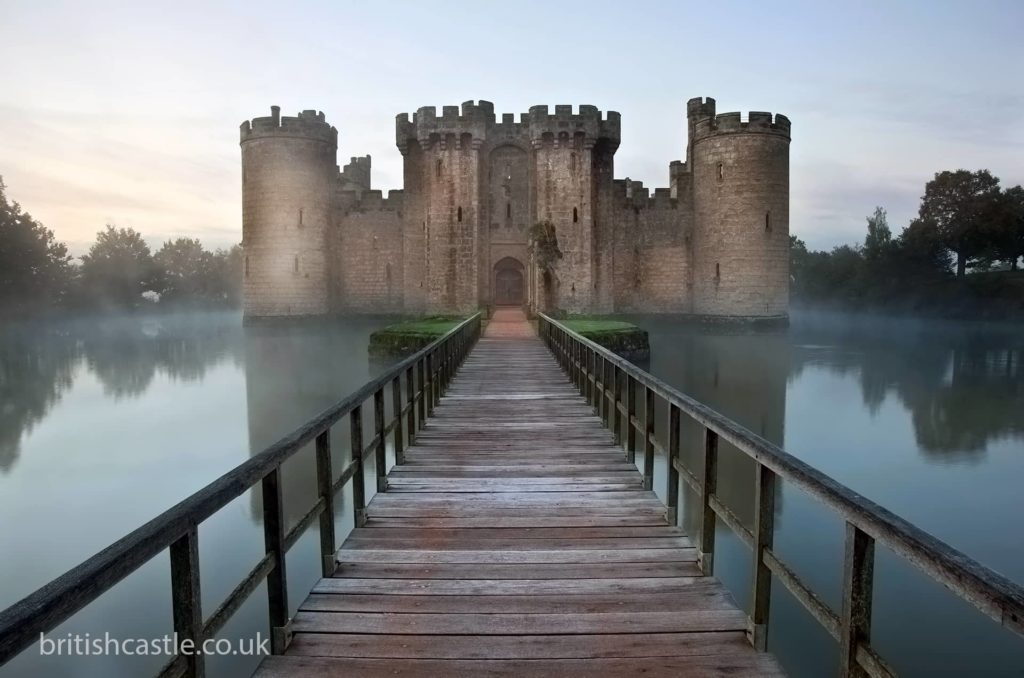 Originally built as strongholds for defence, by the time of Bodiam's construction the emphasis was on comfortable, elegant country houses. Looking at the castle plans you can see that the result of this sea change is a beautiful curtain-walled house, well defended and fortified, set in an area of outstandingly beautiful landscape.
The moat was man made, the architects having diverted the river to flood a wide area of marshland.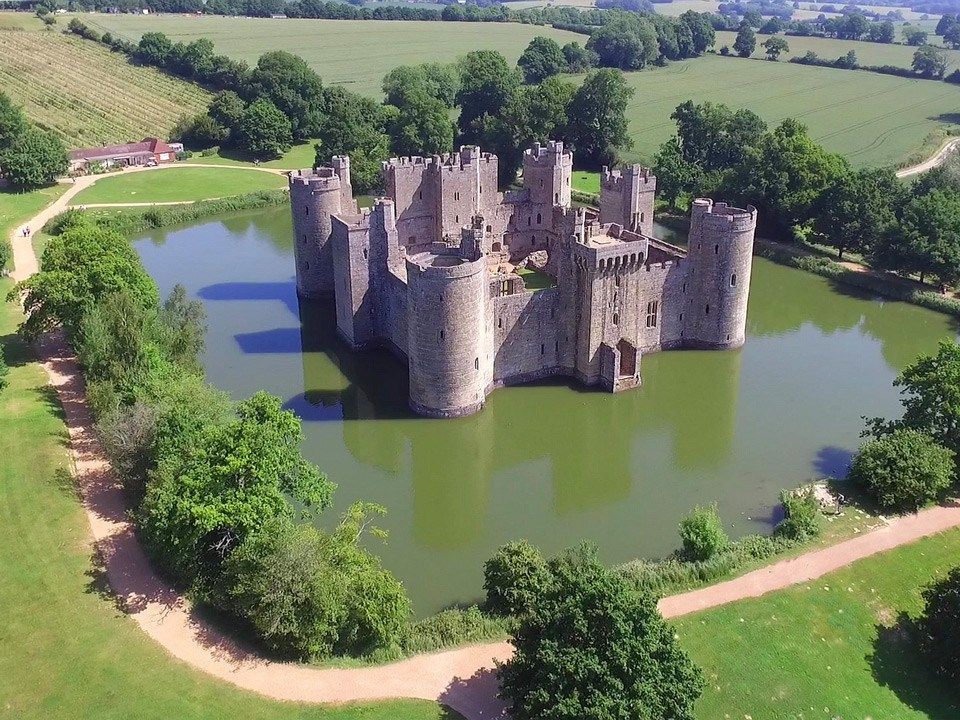 The site was originally a Saxon fortification. No doubt its location right on the river made it a very useful strategic position and would have been a prime site as a trading post.
The castle was originally built by Sir Edward Dalyngrygge. Following the wars in France under King Edward III, Sir Edward petitioned the king for permission to strengthen his family home to protect him and his family from reprisals from the French, and having received permission decided to reconstruct his home as a moated castle.
Laws at the time required that crenellation of buildings had to have a special licence, and this was granted to him in 1385.
Crenellation wasn't so much a practical defensive measure as a deliberate outward show of class and nobility; only a handful of licences to crenellate were ever issued, and only then to the most loyal and trustworthy subjects.
He attained very high noble status and was appointed Keeper of the Tower of London and Governor of the City of London.
With the king's permission to refortify his existing home, Dalyngrigge instead rebuilt it entirely on a new swatch of land, a shallow basin that also happened to be greatly suited for the addition of a protective moat.
On the one hand, some scholars believe that the completed castle was conceived and built as a lavish abode set in the grand romantic design––a private home meant to evoke the majesty and prestige of other English castles, with little intention of ever being used during wartime. Others, however, maintain that it is, in fact, a formidable and strong fortress that also happens to carry all the hallmarks of a grand court. Whatever the intention, most agree that the site of Bodiam Castle was undoubtedly selected with care.
A quadrangular castle: Bodiam Castle's design
Surrounded by water and accessible only by a moat, Bodiam Castle––a mostly square-shaped, quadrangular castle––features one of the most unique design layouts in all of British architecture. At the time, Bodiam Castle featured a main interior castle courtyard, with buildings set against the curtain wall, and there were two possible entrances: one at the main barbican (long since demolished, but there would have been an access route linked to a small island that was separate from the main gatehouse); and another entrance at the postern gate at the rear of the fortress (which now faces the on-site car park), which would have likely been connected to the moat's south bank by a drawbridge.
Round, looming drum towers are situated at each corner of the castle, providing further defensive measures (i.e. arrow slits for fending off attackers––although, the windows at the top of Bodiam are generally considered too narrow to have been used for this purpose). Even if intruders had managed to reach the barbican, the gatehouse provided multiple opportunities for booby traps and featured gun loops within the battlements and murder holes in the vaulted ceilings which were most likely used to drop heavy objects on attackers.
The small island within the moat just outside the main entrance, often referred to as the Octagon, has been studied extensively by excavators throughout the years. Discoveries have included the feature of a garderobe, or medieval toilet, which suggests that there may have been a defensive guard occupying this area full-time.
The rectangular patch of water on which the house sits had been supplied from nearby springs. However, given its design, even before the time of indoor plumbing, human waste collected from inside the castle was almost certainly heaved over the parapets––in fact, historians have since deduced that the indoor toilets (which were installed during modern years) drain directly into the moat, rendering the outlying waters (up until modern renovations) an open sewer.
Seated far from the medieval coastline that would have made it a strong defence from French invasion, the mysteries of the architecture and interiors of Bodiam Castle abound throughout the walls and grounds. For one, it has long been held that the original surrounding land was designed in an effort to highlight the fortress, not conceal it––another unusual manoeuvre for a defensive stronghold.
However, while moats surrounding castles are typically meant to keep invaders from scaling the walls, by isolating Bodiam and creating complementary landscaping and perching the site on a reflective vista of surface water, the building actually appears larger and more imposing to enemies observing from a distance.
And one would have no choice but to observe Bodiam from a distance, given the moat. This extremely rare example of architectural technique (at the time), called "forced perspective" is popular in modern design, proving that there was significant thought and ingenuity that went into the site's original construction.
The interior of Bodiam Castle is mostly in ruins today, but once featured separate domestic areas for all key players: the family, esteemed visitors, the army garrison and, of course, servants. The great hall would have stood as tall as the curtain wall, while the numerous arched ceilings led to various rooms, including the kitchen (also as tall as the curtain wall), a buttery and pantry.
Along the east and west curtain walls stood a chapel, an antechamber (of unknown function), an extra hall and a second kitchen––nearly all of which sat atop a dedicated basement area likely used for storage.
Bodiam Castle throughout the years
There is no confirmed date as to when construction on the new building was completed, however many have listed 1392 as a likely possibility. Regardless, Dalyngrigge would not have long to live in his new palace, dying in 1395 and leaving Bodiam Castle to his son, John. In fact, a series of deaths occurred within the Dalyngrigge family over the next 50 years, at which time the castle would eventually fall into the hands of the Lewknor clan when a cousin of the Dalyngrigges married Sir Thomas Lewknor around 1417.
Bodiam Castle would pass throughout the Lewknor family throughout the 15th and 16th centuries, however, little is known for what the site was used, if anything other than a private residence, during these periods. Following the death of Sir Roger Lewknor in 1543, the estate was divided, and the existing manor house and Bodiam Castle were split––with numerous buyers taking ownership well into the 17th century.
In 1639, John Tufton, 2nd Earl of Thanet, purchased Bodiam Castle and reunited it with the manor, but was forced to sell both five years later to Parliamentarian, Nathaniel Powell.
The dismantling of Bodiam Castle
Amid infighting during the English Civil War (1642 – 1651), the loyalist Powell was given certain distinctions from the monarchy for his service, chief among them, was the title Baronet by King Charles II. Also, around this time, many functional castles were being slighted (the deliberate dismantling of high-ranking buildings in order to lower their value or render them useless) ––and Bodiam Castle was no exception. There is no record of an exact slighting date, but it is generally assumed to have happened not long after it was purchased by Powell.
Under these highly specific commands, Bodiam's barbican and main wooden bridge, as well as many of the interior buildings, were destroyed. What remained of the castle––mostly the skeletal frame of what stands to this day––remained in Powell's ownership and was passed down to his son upon his death in 1675. Though barely functioning as a liveable space (although the manor house was left intact), Bodiam Castle remained in the Powell family until was purchased by an outsider in 1722.
The aristocratic Webster family, led by Sir Thomas Webster, took control of the property, and it is during this time that we see Bodiam Castle as a monument and popular tourist attraction. The medieval period, following on the heels of the romantic period, saw artisans flocking to East Sussex to gaze upon the architectural wonder and settle into the lush landscape nearby. It was in the mid-1700s that the first drawings of Bodiam Castle were chronicled. In it, the once proud and valorous structure––though still beautiful––is depicted as overrun and decaying, which brought about a renewed interest in the renovation of older buildings.
Throughout this Gothic-Revival era, descendants of the Webster family, having spent years hosting visitors at the vacant property, decided to sell Bodiam Castle, and a large swath of land upon which it sat, to John Fuller, a flamboyant Squire, philanthropist and politician who sat in the House of Commons, in 1829.
Fuller, being a dedicated patron of the arts and, therefore, no stranger to the management of finer things, began an immediate restoration project that saw Bodiam Castle outfitted with new gates and a repaired tower. So impressed with the building was Fuller, that It is thought that he purchased the stronghold from the Webster clan with the sole intention of preventing it from being further dismantled.
Bodiam Castle and its manor house stayed within the fold for a further generation, when it was sold by Fuller's grandson in 1849 for a meagre sum (though nearly double what John paid twenty years earlier).
George Cubitt, who would become Baron Ashcombe, continued Fuller's ongoing renovations when he assumed control, including repair work to the other crumbling towers in 1864.
The castle would change hands once more in 1916, this time to Lord Curzon, 1st Marquess Curzon of Kedleston, whose fascination for Bodiam was well documented––he, too, sought to have the palace under his control in an effort to ensure its preservation and beauty.
Working with the architect, William Weir, who specialised in the restoration of ancient ruins, Lord Curzon brought new life to Bodiam Castle, repairing interior stonework, removing fencing and borders, draining the moat––which yielded countless found artefacts dating back centuries––and building out the landscaping and groundskeeping, much of which is still on display today.
As a result of the excavations, a small cottage was erected on the property to be used as a museum to display much of the salvaged artefacts.
The area surrounding Bodiam Castle, by now a gleaming beacon of its former glory––albeit, still uninhabitable––was the pride and joy of Lord Curzon. So much so, that on his deathbed in 1925, he gifted it, and the grounds, to the National Trust with the proviso that they continue to restore the property and maintain it for years to come. The National Trust has owned Bodiam Castle ever since. 
In addition to ongoing restoration work, the structure was designated a Grade I listed building in 1961. Today, it continues to operate as a tourist site, drawing visitors from across Britain and the world. It is also known to host events, as well as photography and film shoots.
Perhaps most famously, Bodiam Castle was featured in the classic 1975 film Monty Python and the Holy Grail––during the "Tale of Sir Lancelot" sequence, Bodiam is depicted as the infamous "Swamp Castle". In addition to major motion pictures, Bodiam Castle has also featured on the small screen, appearing in famous episodes of The Goodies and Doctor Who.
Visit Bodiam Castle in East Sussex
As one of the most picturesque castles in all of England, Bodiam Castle draws in scores of visitors each year. And those with tour tickets can expect a host of interactive and engaging activities. For example, children can learn about castle life by exploring the historic landscape and the remains of the entire castle interiors––climbing the towers, spotting carp in the moat, running across the battlements and even visiting the Lord and Lady's apartments, as well as the servants' quarters.
Knowledgeable staff and volunteers are on hand to answer historical questions about the buildings, the grounds and the neighbouring villages. Or, for groups interested in a less interactive option, simply wander the site at your leisure.
Make a day of it: discover Bodiam Castle grounds, which offers seasonal history and nature-themed activities, including archery, stocks re-enactments, medieval costumed characters, storytelling, and various types of historical demonstrations.
Facilities
The Wharf tea-room and Castle View cafe are open year-round, selling ice creams, children's picnic boxes and tea, coffee and home made cakes for grown-ups. Tourists can pull up a seat to a freshly prepared lunch or cream tea along the river's edge. Alternatively, bring your own picnic and park on the grass for a relaxing sojourn while taking in the charming sights, including breath-taking views of the East Sussex countryside.
Bodiam Castle offers a car park, with wide parking spaces, baby change toilets, picnic benches and buggy-friendly paths for families with dogs (ensure that any pets are kept on a short lead at all times). There is also a souvenir shop with a dedicated children's section, featuring books, costumes, historical artefacts and other Bodiam Castle-themed gifts.
For more information on visiting Bodiam Castle, including hours of operation––or, for more information on the National Trust, visit the website.