One of the most historical landmarks to visit are the ruins of a castle.
The majestic towers, the uniquely structured archways, and the stone walls (or what's left of them) all tell a story of what once was, both mysterious and enthralling in the same turn. Wales is a land of hundreds of castles, all with a unique story behind their walls.
While some are more mysterious than others, they all possess a rich history that went into the making of Wales as it is today: a land of natural beauty, strong history, and the resilience to overcome the hardships it once knew.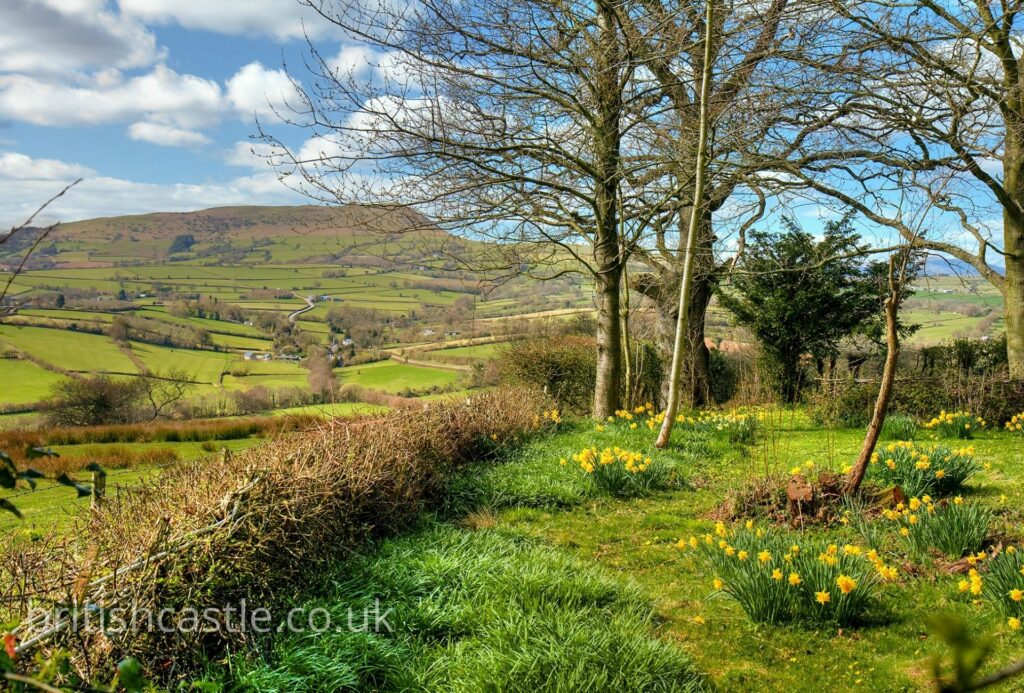 The Three Castles, all in Monmouthshire, share a great deal of history together dating back to the 11th century. With various owners throughout their time as well as a highly active military presence, the battles and uprisings during their glory days were the ones that made the history books.
Their ruins still stand today, and with them stands the stories that made Welsh history. White Castle is one of these castles, the most well-preserved ruin of the three. This article discusses the history of White Castle in all its glory, from the beginning until today.
Where is White Castle?
White Castle is in Monmouthshire, Wales, near the village of Llantilio Crossenny. Its location is a strategic one; protected by the hills of the Monnow Valley and overlooking the Monnow River. White Castle had great advantages to its placement.
It is one of The Three Castles, along with Grosmont Castle and Skenfrith Castle, also in Monmouthshire. Formerly named Llantilio Castle and known in Welsh as Castell Gwyn, its ruins are a sight to behold, and a rich history is contained within its walls.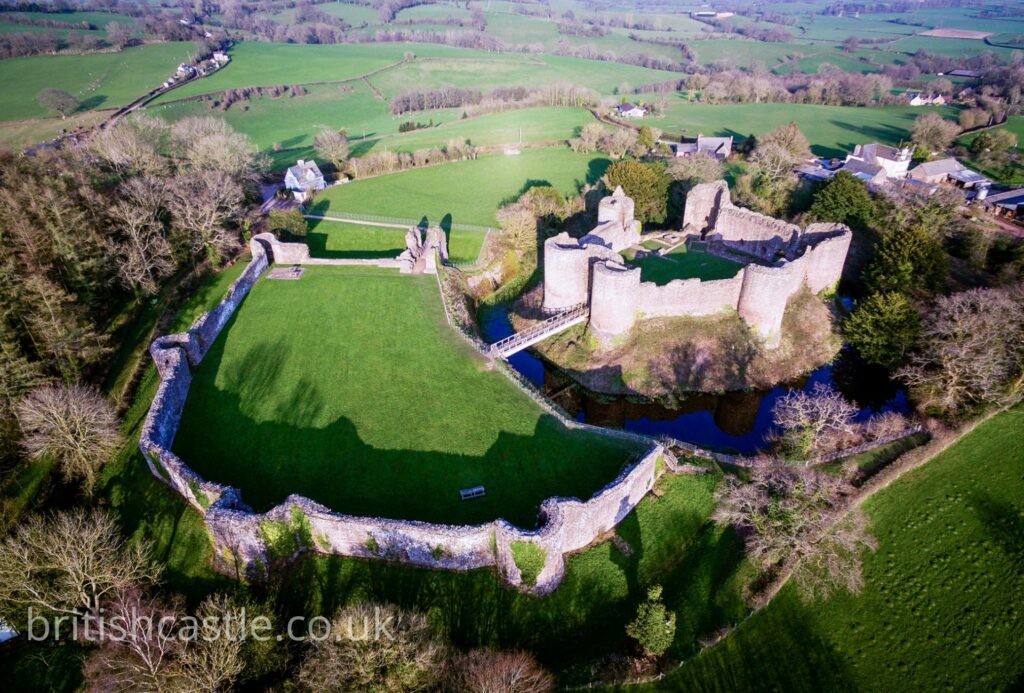 Wales is home to some 600 estimated castles, 16 of them residing in Monmouthshire. The naturally strategic landscape of the countryside and its access to water are part of the reason; Normans and earlier Romans saw great potential in this and wanted to benefit from the natural advantages it could bring them in battle.
The ongoing battles, revolts, and uprisings of Wales over the centuries are another reason for the many castles across the country; they served as fortresses and a means to control movement across the land from the south.
When was White Castle Built?
White Castle, along with Grosmont Castle and Skenfrith Castle, was built in the later part of the 11th century. After the Battle of Hastings in 1066, William Fitz Osbern,
Earl of Hereford, took ownership of the stronghold, then made of timber and earth. Its location was advantageous for spotting potential incoming invaders, providing expansive views of the land. After a very short time possessing White Castle, William Fitz Osbern died in 1071.
Osbern's son, Roger de Breteuil, was the obvious inheritor, but de Breteuil was denied The Three Castles after his rebellion and attempt to overthrow his father during the Norman invasion.
This meant that White Castle would now be placed in the hands of the crown, where it remained for a short period of time. Though its first construction was erected in the 11th century, it would not become the famous stone walled White Caste that is widely known today until almost 200 years later.
What was the Purpose of White Castle?
White Castle's purpose was first to be a stronghold, protecting against invaders and providing an advantage through its location and architecture. It has since been the grounds of many battles, and the residence of many owners including royalty. The unique circular architecture was the example used by King Edward I when he went on to build more fortresses in Northern Wales.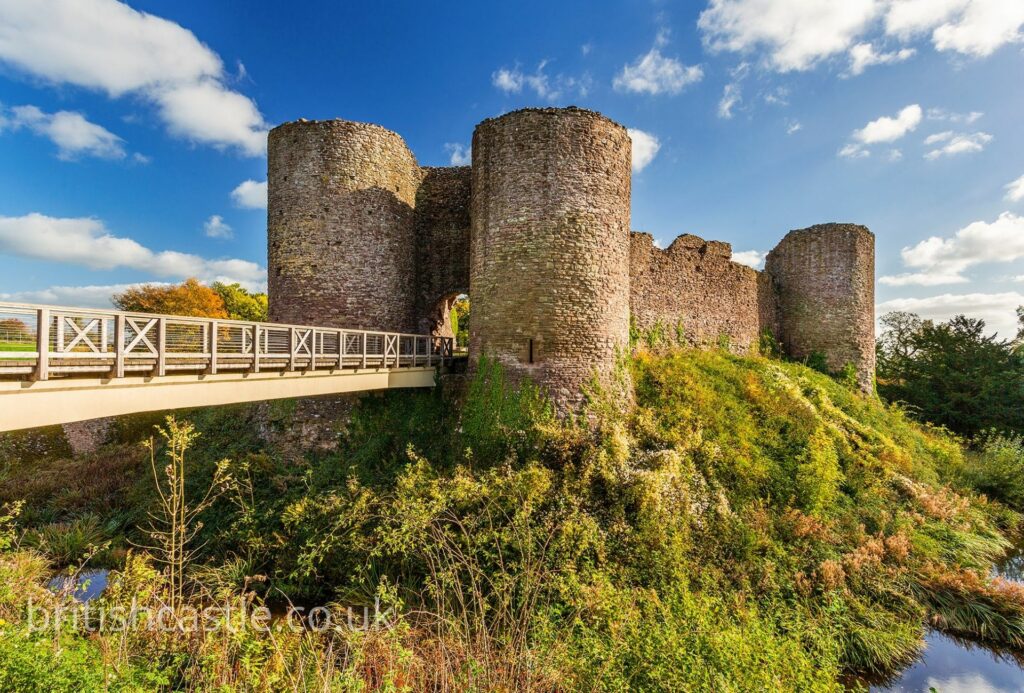 The stone construction that came later, in the 13th century, comprised of a very particular architecture that was created to make the inner castle impenetrable. The inner wall was surrounded by a deep, steep-walled moat, the outer wall, and four towers that easily viewed the entire surrounding landscape for miles.
A fortress made of stone with almost every possible advantage was the intention that went into the rebuilding of White Castle. Considering how well preserved it stands today, it seems as if the plan was a success.
Who Else Owned White Castle?
The early 13th century brought much change for White Castle.
The Three Castles were given to Hubert de Burgh by King John, at a time when White Castle was a less sought-after fortress than it would eventually become.
Used primarily as a military installation and a garrison that possessed large stores of weapons including arrows and bolts for crossbows, the conditions at this time were said to have been quite miserable.
While in the process of remodelling The Three Castles, possession was taken from Hubert de Burgh by King John. Instead, the King gave them to a rival of Hubert's, William de Braose. Upon falling out with de Braose in 1207 King John then took back The Three Castles, only to have them retaken by de Braose's son, also named William. Once Hubert de Burgh was released from French captivity, he returned to power and took back The Three Castles in 1219.
In 1232 Hubert fell from power yet again, giving possession of The Three Castles this time to Walerund Teutonicus, a royal servant. Walerund remained in possession until 1234, when The Three Castles were returned to Hubert once more, but only until 1239 when Hubert fell out with the crown for the last time. This is when Walerund made many improvements to White Castle, including a new hall, pantry, and buttery in 1244. 1254 brought another change of ownership, with The Three Castles being given to King Henry's oldest son, who would later become King Edward.
Much later, in the 19th century, White Castle was sold to Henry Somerset, the Duke of Beaufort. White Castle passed throughout the Somerset family over the next century, eventually becoming an informal tourist attraction in 1909. In 1922, White Castle was given to the state to care for and is now managed by CADW. It remains a tourist attraction for visitors to enjoy to this day.
Conclusion
White Castle has proudly stood the test of time. At over a thousand years old, it has seen countless encounters that made history, in Wales and beyond. Once made of wood and earth, the stone walled structure that people know of today is what made White Castle famous. Along with its two sister castles, together The Three Castles were an important element of Welsh history, eventually becoming part of an independent country that was once plagued by invaders of all kinds.
Thanks to the accommodating lands of Wales, many a castle has been built within its borders. The ongoing battles and uprisings of the medieval age caused need for protection, and the castles provided just that. With the advantageous terrain of mountains and valleys along with the plentiful water supply, castles built in Wales served great purpose and effectively protected their residents from attackers. While it's hard to see now how gloriously it once stood, a simple gaze at White Castle's ruins gives off the feeling of great power.
With great history behind its walls, White Castle remains a tourist attraction for visitors from far and wide. The unique architecture still pleases the eye of onlookers and incites curiosity in anyone who pays this majestic site a visit. For over a millennium, White Castle has stood strong despite the battles that raged in its surroundings. While it may now be a ruin, it still stands strong today.