Warwick Castle is a fine example of a medieval castle. Located in the town of Warwick, it stands on a cliff overlooking the River Avon. The castle is a Grade I listed building and protected as a Scheduled Ancient Monument.
Built on the site of an Anglo-Saxon burgh, the castle was one of the first motte and wooden bailey structures to be built by King William after the Norman Conquest. The castle and the title Earl of Warwick were granted to Henry de Newburgh in 1088 and Warwick castle became home to future Earl's for several generations. It was used as a fortification until early in the 17th century when it was converted by the Greville family into a country house.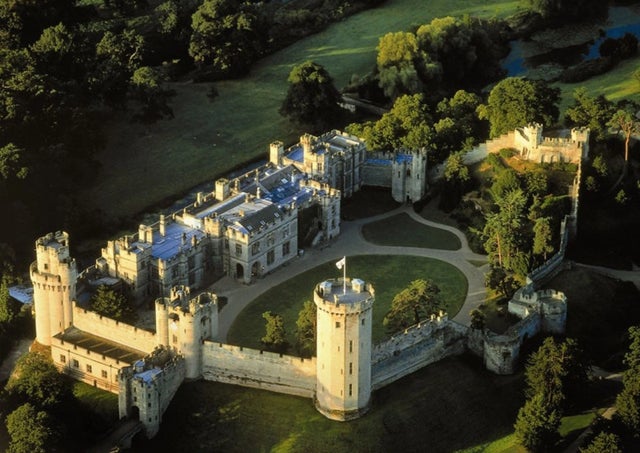 As with all the Norman castles, Warwick has seen many alterations over the centuries. The original motte and bailey structure was demolished in the 12th century and construction of a stone fortress began. During the Hundred Years War (1337 – 1453) the side of the castle facing the town was refortified. This fine example of 14th century military architecture still stands today.
Entrance to the inner courtyard is through a gatehouse in the curtain wall that still retains the old portcullis. Some the towers in the wall reached up to 40 metres high. The keep was located in the centre of the north wall and was designed to repel attack, both from outside and from rebel mutineers within. It was flanked by the Clarence Tower to the left and the Bear Tower to the right. The majority of the residential buildings were located along the eastern wall facing the river which along with the thick curtain walls provided them with an ample defence against marauders.
Warwick Castle was renovated in the 17th century and the magnificent collection of furniture and artworks by European masters date from this period.
Warwick Castle is now leased by Merlin Entertainments and is a very popular UK tourist attraction.