Rochester Castle was one of the first English castles to be rebuilt in stone. It is located on Medway River along with Rochester Cathedral, at times referred to as its twin. There had been a Roman fort in the area though there is little evidence of these original buildings. What remains today is one of the best-preserved and grandest example of Norman castles in the British Isles.
It measures one hundred and thirteen feet in height, seventy feet square and its walls are 12 feet thick in places. Construction began in 1087. It was one of Willam the Conqueror's finest architects, Bishop Gundulf, responsible for much of the original construction. Custody was given to the Archbishop of Canterbury by Henry I in 1127.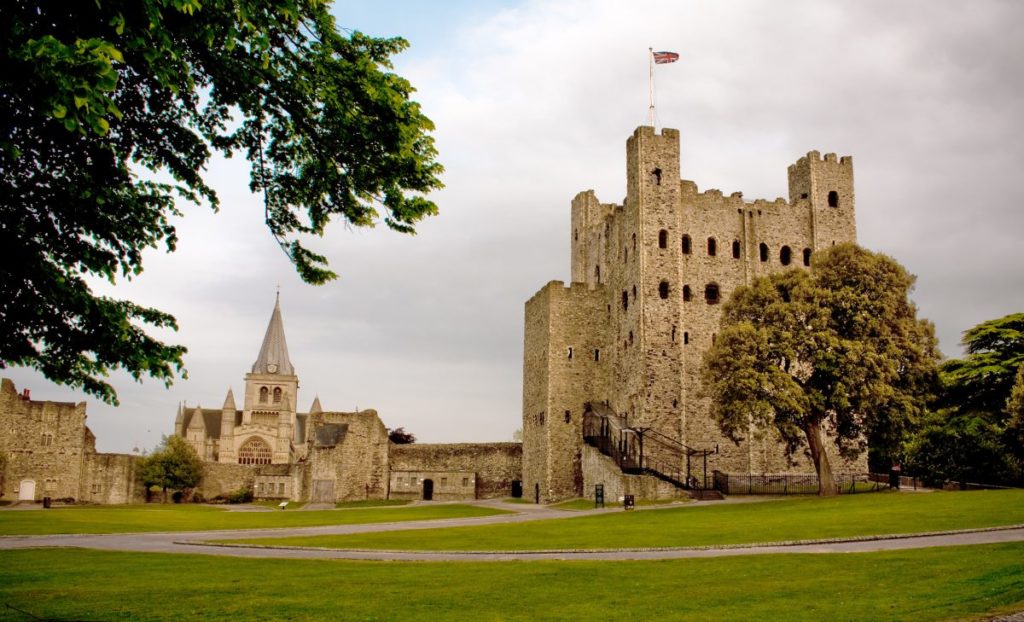 The castle has been besieged at least three times. In the early thirteenth century, King John attacked the castle causing extensive damage to the south corner of the castle. That section later collapsed. The corner was rebuilt with a cylindrical style and was further protected by the addition of a drum tower.
In 1264, further destruction occurred, and was not repaired for more than a century. During that time, a general neglect existed and Rochester Castle began to deteriorate. Edward III undertook a major rebuilding and restoration programme. By 1400, Rochester Castle was once again in working order.
Again, by the 17th century, Rochester Castle was suffering from neglect. The keep had been burned out and the site was being used as a quarry for building materials. In 1870, the grounds were leased to the city and turned into a public park.
The castle's preservation and its exemplary architecture will help this castle to find its way onto the lists of many castle enthusiasts. The city of Rochester has shown itself proud of its heritage, and its twins.

Opening times and charges and further information about Rochester Castle is available from National Heritage.