Chepstow Castle lies on the River Wye in Monmouthshire, and was built by William FitzOsbern in the period immediately following the historic invasion of William the Conqueror in 1066 and the great sweep to the west to attack and subdue the Welsh.
FitzOsbern, who died soon after in 1071, was the Lord of Breteuil in Normandy and was given the lands and title of the Earl of Hereford by the Conqueror to underpin his invasion of Wales. Following FitzOsbern's death the castle passed to his son Roger de Breteuil. It subsequently passed to Walter Fitzherbert in 1115, to his nephew Gilbert Strongbow, and then to Strongbow's son Richard.
The castle acted as a staging post during the long period of invasion, and is the oldest surviving example of a stone fortification of the Norman period. Above the doorway you can see the eroded remains of a Roman arch from a settlement that would have existed in the immediate area three to four hundred years previously, and the castle was developed and extended from the original Norman tower to the massive fortress you see today.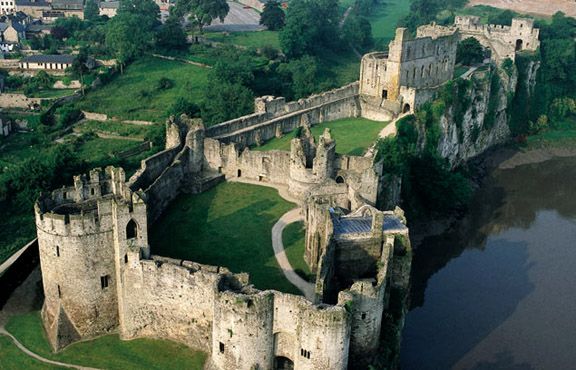 Chepstow Castle's strategic position at one of the main river crossings between southern England and Wales made it a valuable site throughout the ages, and it became the hub of administrative and military governance for the Striguil (Chepstow) area.
Its position on the River Wye also made provisions deliverable by boat, a facility particularly important during the periods of siege and assault by the Welsh when transporting provisions across land would have meant risking their being ambushed by the Welsh.
By 1245 Chepstow Castle had been further strengthened and improved inside and was a formidable defence against repeated but unsuccessful Welsh onslaughts. Notice that at the rear of the castle, which faces into Wales, there are no windows, whereas the front of the castle, facing England, allows in plenty of light.
Although it is likely that the windows were enlarged in later periods, clearly this building design proved to be a remarkably strong and durable defence against attack.
By the end of the twelfth century Chepstow Castle had passed to William Marshal, a soldier who became the Earl of Pembroke by marriage.
The castle underwent further development in the Tudor period and by the time of both Civil Wars was fought for by both Royalists and Parliamentarians.
By 1690 Chepstow Castle was decommissioned and was left empty, falling into disrepair and ruin until it was sold by the Beauforts to the State in 1914. It is now owned and managed by Welsh National Monuments and is accessible to the public.