Blarney Castle is a partially ruined, medieval castle situated near to Cork in Southern Ireland.
There was a timber hunting lodge on the site in the mid 900s. This was replaced by a stone castle in the early 13th century and the present fortress was constructed by Cormac MacCarthy, a great Irish chieftain, in 1446.
The main feature of the castle is the massive square keep, 85 feet tall and with walls up to 18 feet thick. This would have formed the living accommodation for the MacCarthy family and their knights and retainers.
There are heavy battlements around the top of this tower which are thought to have been added in the late 1500s.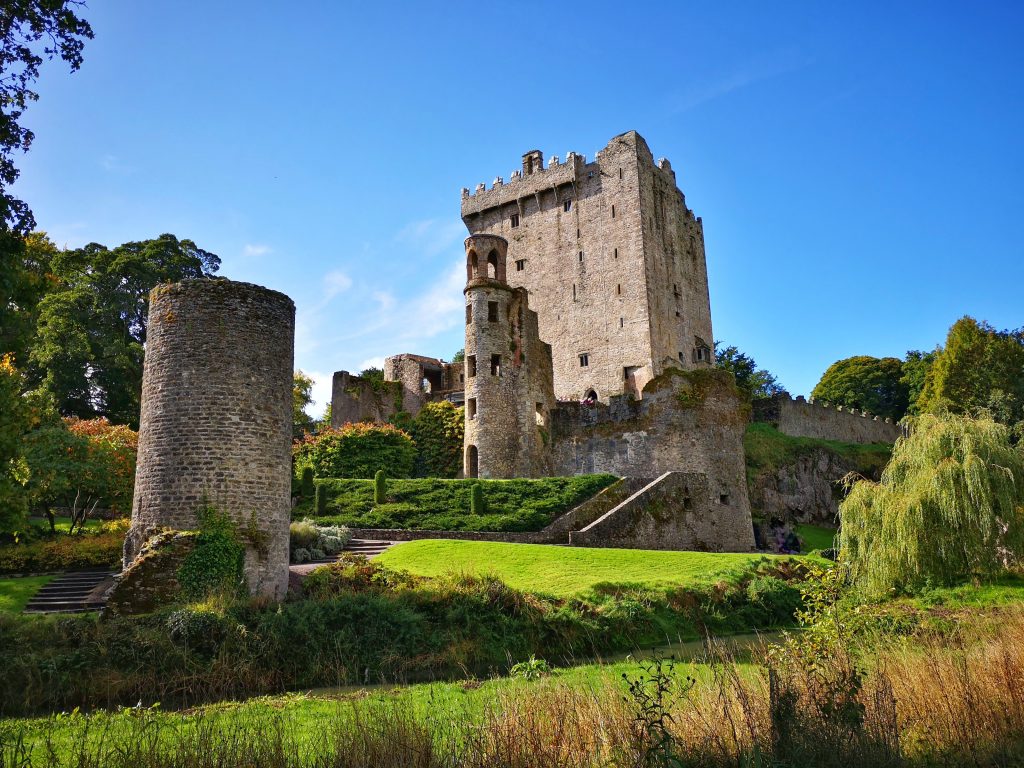 The ground floor of the castle consisted of a large open room with the Earl's bedroom off to the side. The Great Hall and the guard house were situated on the second floor. Also located on this floor was a 'murder situated on the second floor. Also located on this floor was a 'murder room'. This was a tiny room where guards could hide and spy on visitors coming into the large ground floor entrance room.
Unwanted guests were then treated to a shower of hot liquids or a barrage of arrows fired from above. The third floor contained a large family room and the chapel and banqueting hall were on the floor above. The kitchen occupied the top floor. Underneath the castle you can find the dungeon and caves.
Still standing are the ruins of a bell tower shaped structure originally part of an 18th century Gothic extension that was later destroyed by fire.
Blarney is probably best known for the world famous Blarney Stone than for the actual castle itself. The Stone of Eloquence is at the top of the castle and legend has it that by kissing the stone you will receive the gift of eloquence. In order to reach this stone you need to climb up the original steep stone spiral staircase.
The castle is surrounded by beautiful gardens that were laid out by James St. John Jefferyes in the mid 18th century.
Blarney Castle is open to the public year round except 24th and 25th December.