Rounding the corner on a quiet country road in Dorset, among the Purbeck Hills, you'll see the ruins of one of the most picturesque historic monuments in the south of England, Corfe Castle.
The original site is thought to have been a Saxon fortification, and legend has it that St Edward attained martyrdom following his brutal murder at the hands of his mother.
The original Norman tower was built by William the Conqueror following his invasion of Britain in 1066, and is in the perfect position for control of the main route between Swanage and Wareham and for defence against any attack from the sea. Records show that the inhabitants of the area were pressed into service to build the castle, which was constructed of local Purbeck stone. A quid pro quo arrangement guaranteed that they retained their land and accommodation as well as having the right to protection within the bounds of the castle in times of war or attack.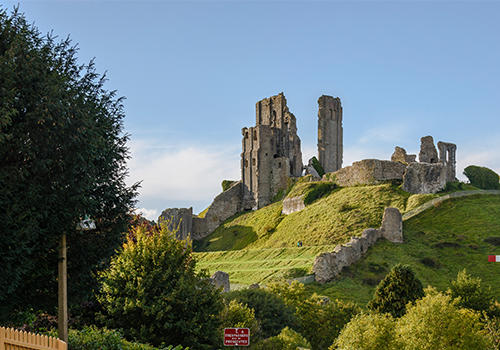 Because of its position in an area much favoured because of the good hunting on the Isle of Purbeck, Corfe Castle became a favoured Royal residence and from 1199 for seventeen years King John spent much time here. It was also used as a prison and a place of execution for the hapless prisoners. During his tenure and that of Henry III in the thirteenth century the castle's fortifications were strengthened and the castle buildings extended.
Between the fourteenth and sixteenth centuries it became less important both as a strategic stronghold and as a Royal residence and it was often left empty and derelict.
In 1572 Queen Elizabeth I sold Corfe Castle to her Lord Chancellor, Sir Christopher Hatton, and he used the castle as a beautiful place to live rather than as a military outpost, spending large sums of money on its refurbishment.
In 1635 the castle was bought by Sir John Bankes, and when he died in the Civil War his widow Lady Mary was forced to defend the castle against Parliamentarians during a siege in 1643. Although the castle was then held for three years, in 1646 Corfe Castle finally fell to the Parliamentarians after a further siege, and the castle was destroyed to prevent its occupation and use by Royalists. The keys to the castle, however, were retained by Lady Banks, and they are still kept to this day at the home of Bankes' descendants in Kingston Lacy.
The castle was left in ruins and became a useful source of stone for the nearby town of Corfe, and was finally left to the National Trust by the Bankes family. It is maintained as a Scheduled Ancient Monument with plans current to rebuild and restore the castle to a semblance of its former appearance.
For visitor information including opening times and ticket prices visit National Trust's Corfe Castle pages.