York Castle (Clifford's Tower) was one of the first of the Norman motte and bailey castles to be erected following the invasion of 1066. All that remains of this early castle is the motte, or mound of earth, upon which stood the original bailey.
Clifford's Tower, originally King's Tower built during the 13th century, is the name given to the keep that formed part of York Castle. It was the only keep in England to be given a quatrefoil plan having been based on the design of a French castle at Etampes. It is widely believed that the keep was named after Roger de Clifford, who was hanged there in 1322.
The site on which the tower is built has a long history. It was originally used as a Roman cemetery and evidence has been unearthed to suggest that both the Saxons and Vikings had settlements there. Although little remains of the other buildings that made up of York Castle the tower still stands virtually undamaged.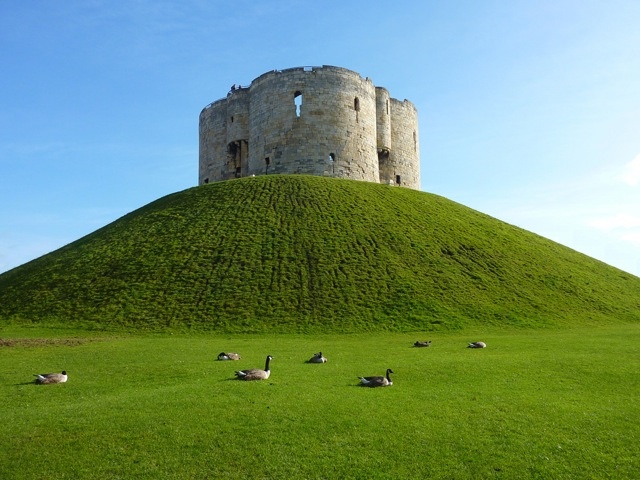 The keep stands on a hill and was surrounded by a curtain wall and moat. It had only one entrance and with walls 3 metres thick it was easy to defend.
The ground floor consisted of 3 rooms; a large guardroom and two smaller rooms that were used as living accommodation. A small chapel was on the first floor of the keep whilst the upper floor was the King's private accommodation. Royal clerks and treasury officials were also housed there. This floor of Clifford's Tower has slightly thinner walls and wider windows.
Over the centuries, Clifford's Tower has had many different functions. Apart from being a defensive structure it operated as a mint, a prison, a court and the county's administrative centre.
Clifford's Tower is now in the hands of English Heritage. It is open to the public throughout the year, except for the Christmas and New Year holidays.