Hever Castle, in the village of Hever, in Kent, is probably best known as the childhood home of Anne Boleyn.
In what was originally conceived as a luxurious country house, not far from central London, this historic site has served as a backdrop for centuries to more than 37 owners from 13 different families, many of them noble––and a few, in particular, of some of the highest royal pedigree. Today, it not only remains valiantly standing in the very same stead of its origins, but it is also a properly managed museum, art gallery, and tourist destination, not to mention a popular filming location and a must-see destination for romantics and history buffs alike.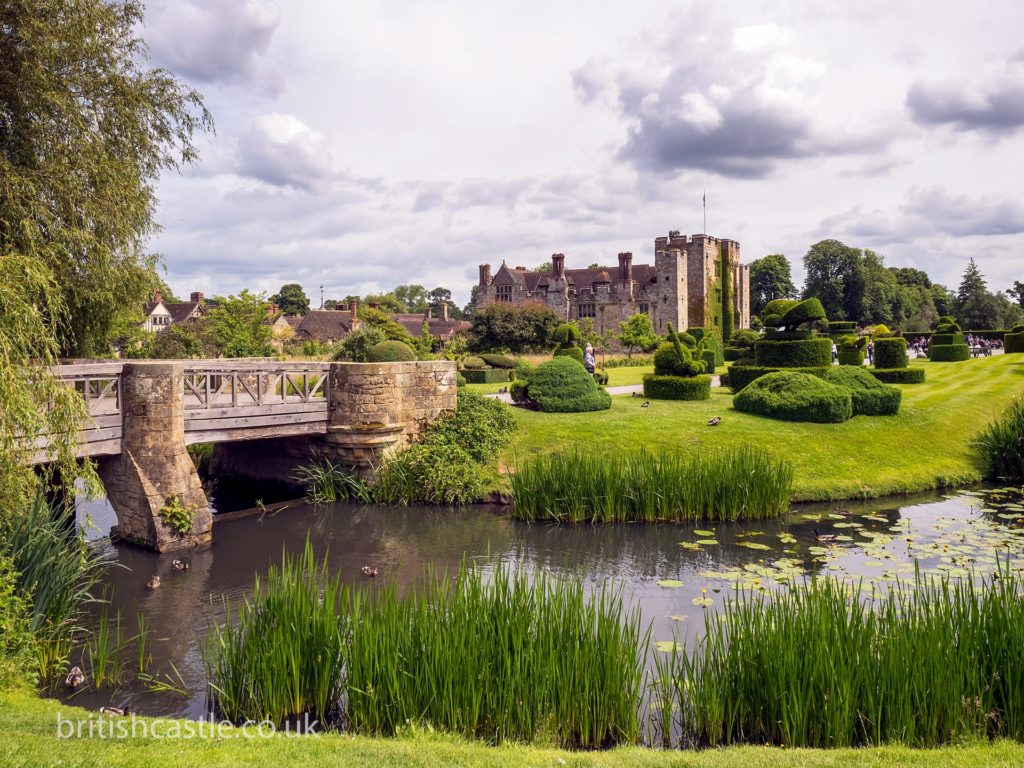 The building of Hever Castle––a seven-hundred-year journey
Hever Castle was built up in three stages. First conceived in 1270, there have been three significant periods of development in Hever Castle's history. The first, most significantly, featured a motte and bailey structure that centred around a great hall, a rectangular layout composed of timber. Originally surrounding this open hall were various outbuildings, including a dedicated stable, kitchen, a dairy, butchery and workshops. With all of these sub-structures in place, it was only one year later that permission was obtained to strengthen the wooden framing with lime and stone in order to give it the proper image of a castle. The Gatehouse that exists today contained a hall that would have replaced the original motte and bailey castle.
The childhood home of Anne Boleyn
In the late 13th century the castle consisted of a moat, large gatehouse and walled bailey. The entrance was through a drawbridge over the moat. During another stage of development during the 15th century, likely in 1462 to be precise, was when owner Geoffrey Boleyn, Master of Gonville Hall at Cambridge University, had a small yet comfortable Tudor manor added within the walls, as well as implementing the construction of two separate wings: the west wing, which contained, among other notable rooms, the Great Chamber, underneath which was the ground floor consisting of administrative offices, namely the Chatelaine's Office; and, the east wing, which allowed for various domestic offices, including a ground-floor dairy, as well as multiple accommodation suites for guests above.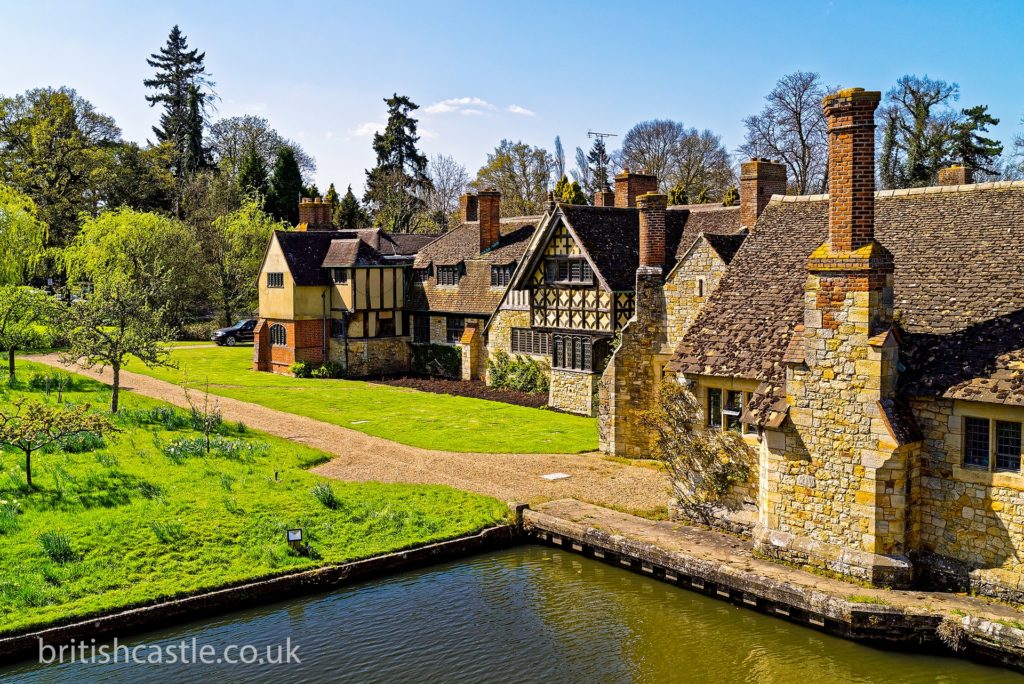 Around the turn of the 16th century a Tudor mansion house was added inside the bailey. One of the more significant renovations––and certainly the most famous addition to the fold––would arrive at the fortress in 1505. Geoffrey Boleyn left Hever Castle to his grandson, Thomas Boleyn, the first Earl of Wiltshire, upon his death. Thomas, who lived at Hever with his wife, Lady Elizabeth Howard, would go on to have three children: George, Mary and Anne Boleyn––future Queen of England and wife of King Henry VIII.
While it is not known for certain if Anne was born at Hever Castle (her precise birth date and location remain unconfirmed), she was certainly a prominent figure within the walls and throughout the grounds during her early upbringing, long before the young girl had been sent to the Netherlands to attend to her education in 1513.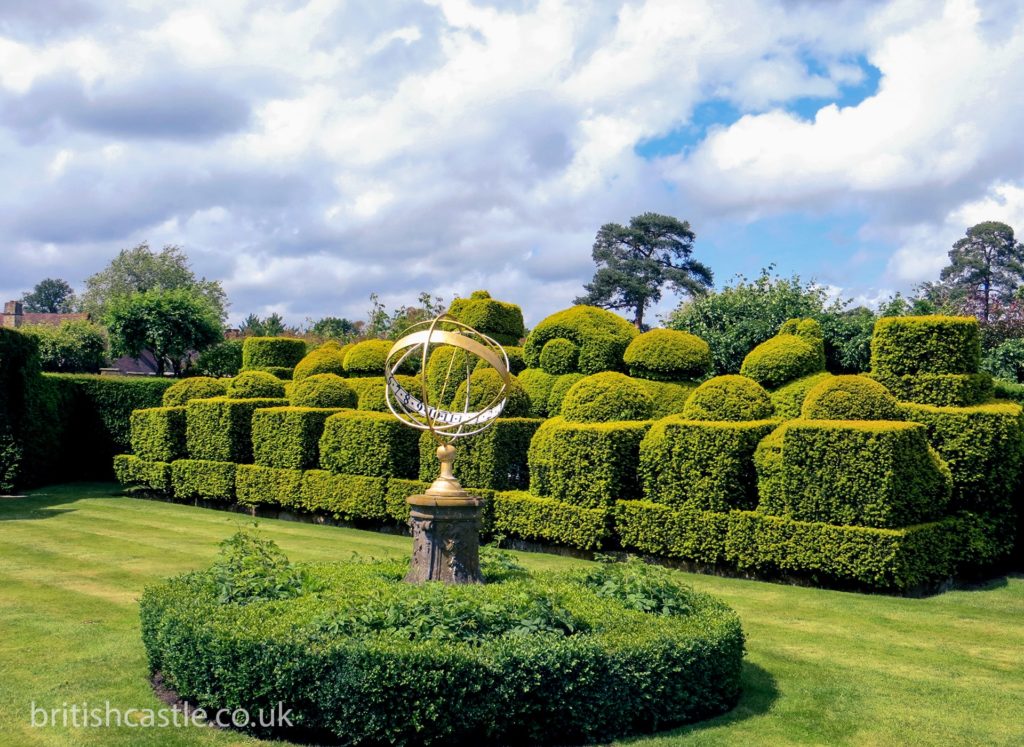 Upon her return, the 25-year-old Anne was soon courted by the infamous King Henry VIII who would frequently visit nearby Bolebroke Castle to facilitate the romance (while still married to his first wife Catherine of Aragon). In fact, love letters from the king were sent to Anne while she was residing at Hever Castle in 1528. A royal marriage was inevitable, and Anne became Queen of England in 1532. However, over the years, her inability to produce a male heir deeply upset His Majesty and, Queen Elizabeth I's birth notwithstanding, the marriage had to end––somehow.
Henry VIII
Following Anne's execution for treason in 1536, Hever Castle remained in the possession of her father until his death three years later, at which point power had transferred back and, in a rather cruel twist of irony, it became the property of King Henry VIII––the same King Henry VIII who, famously, had his second wife beheaded in order to immediately marry a third (of what would be six wives).
Within the castle you can see a magnificent collection of Tudor portraits as well as the lavish living quarters created by William Astor. Anne Boleyn and King Henry VIII's bedrooms are furnished as they would have been when they stayed there. Both rooms feature huge bedroom furniture. In the long gallery you can trace the history of King Henry's six marriages.
Curiously, Henry VIII bestowed Hever Castle on his fifth wife, Anne of Cleves, in 1540 in accordance with the settlement details of the annulment of their marriage. Not long after, Hever would change hands again.
Hever Castle throughout the years
Following the death of Anne of Cleves in 1557, Hever Castle reverted to the Crown and a member of Mary Tudor's Council, Sir Edward Waldegrave, was assigned ownership of both the Castle and the estate––and it would remain in the Waldegrave family until 1715.
Wealthy lawyers, merchants and noblemen would carry on the traditions from within the manor at Hever Castle for another three hundred years, as well as adding flourishes and touches, like the installation of the terrace around the inside of the moat, and the replacement of the wooden drawbridge for a more solid stone version to accommodate horse-drawn coaches by the late 18th century.
By the early 19th century, renovations at Hever Castle were in order, as a constant changing of owners, and various leases to private tenants took a toll on the foundations. In the late 1800s, the kitchen was relocated to the Great Hall when signs of cracking had presented themselves, but not before a massive 15th-century chimney collapsed in on the north east corner of the building. The fireplace was also removed from its original site and added to its present location, likely during one of the tenant's great restoration project in the late 1890s.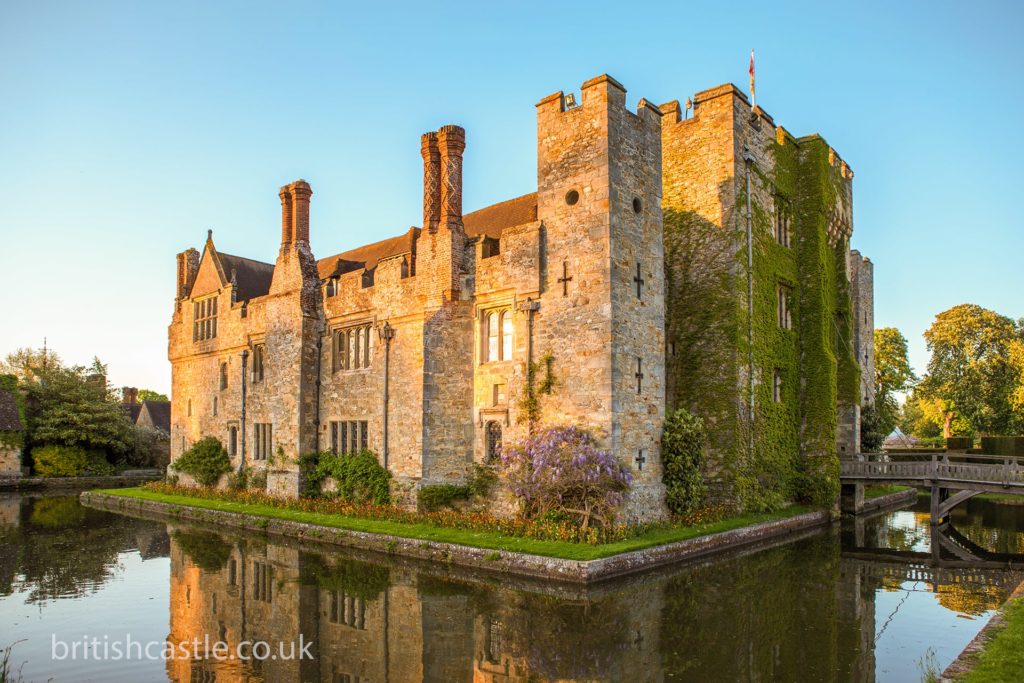 The final stage of Hever Castle's construction came about in 1903, when the world's richest man, William Waldorf Astor (of the famed Astor family), purchased Hever Castle outright and began another restoration that would include many of the existing pleasure grounds and modernisations that exist today.
In all, nearly 800 men were employed during the renovation of Hever Castle––overseen by architect Frank L. Pearson––while an additional 800 men were tasked with excavating the 38-acre lake. Extensive modernisation work continued on the structure until 1906, and landscaping and grounds work continued until 1908. Despite these changes, every element of the castle's existing structure was carefully preserved. Doors, windows, locks and glass were replaced; and elaborate carvings and decorative measures were implemented.
Additionally, renovations included the addition of the Astor Wing, the home farm, various estate cottages, the Italian Gardens, and so much more, all of which are on display today.
Today, Hever Castle is a veritable wonderland of exquisite greenery, lush landscaping and architectural wonder. The interiors are decadently dressed in a firm nod to the building's iconic place in British history, making it an ideal spot for art. In fact, some eagle-eyed viewers may have noticed that the outdoor loggia abutting the lake was recently used as a shooting location for the popular comedy series The Great.
Hollywood aside, Hever Castle and its grounds remain a popular attraction for tourists, brides and even golfers, as evidenced by the Championship Course at Hever Castle Golf Club.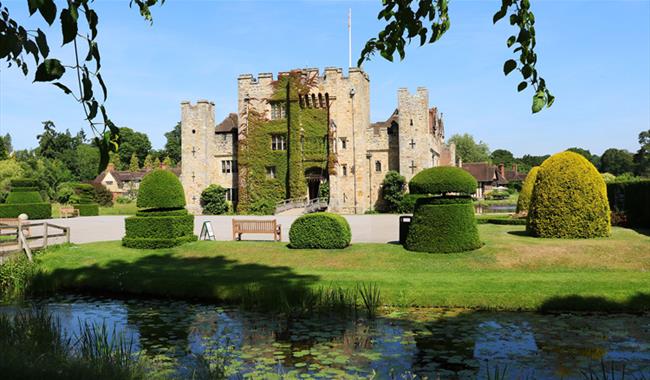 In 1903, William Waldorf Astor created the Tudor Village which has since been used for private conferences, weddings, corporate entertainment and other receptions. In 1983 the castle came into the possession of Broadland Properties Limited. Please visit their Hever Castle website for opening times, admission fees and further information.