Guildford Castle stands in beautiful grounds in the town centre of Guildford. The only remaining part of this fortress is the keep, which underwent extensive restoration in 2003. The rest of the buildings were demolished long ago to make way for houses.
The first castle in Guildford was built shortly after 1066, by William the Conqueror, as a wooden motte and bailey fortress. The bailey was divided into an inner and outer bailey and the motte had a wooden lookout tower.
During the reign of King Henry III the castle became one of the most luxurious royal palaces in England, but after his death it fell into disrepair.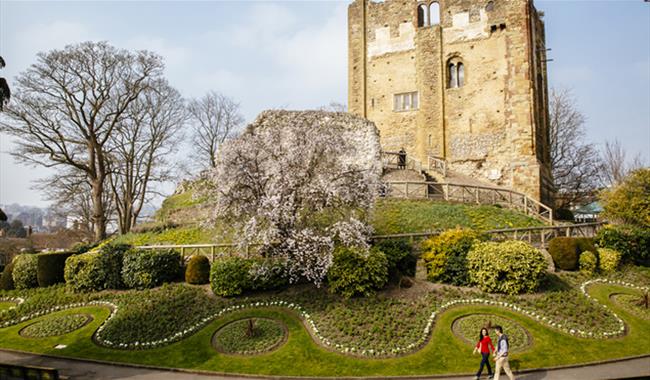 The original curtain wall was made of chalk as was the keep. The original keep was a modest 2 storey building that served as a private apartment for the King. A second floor with lead roof was later added and the keep became the county jail.
New lavish royal accommodation was built in the inner bailey, including the hall, apartments and chapels. The great hall was decorated with coloured glass windows and paintings adorned the walls.
A conservation project, which took place between 2003 and 2004, revealed the original crenellations to the keep. New flooring and a roof were installed to the first floor level and the ground floor was converted into a castle museum.
Guildford Castle is owned by the local council and maintained by the Guildford Museum. The castle keep is open to the public between April and September.