Cardiff Castle is a living monument to the history of the British Isles, dating back to the Romans in the first century A.D. Roman masonry that remained from the original fort can be seen at the base of the Norman walls surrounding the keep. A gatehouse or barbican leads to the motte and bailey fortification. The shell keep atop the motte remains well-preserved and is surrounded by an authentic water-filled moat.
Over the centuries, as the castle was occupied by historically prominent English families, repairs and renovations were made to the basic structures, and new buildings were added. The Black Tower was constructed during the Welsh rebellions of the 12th century. The Octagon Tower and the first hall block appeared during a time of Welsh peace in the 15th century.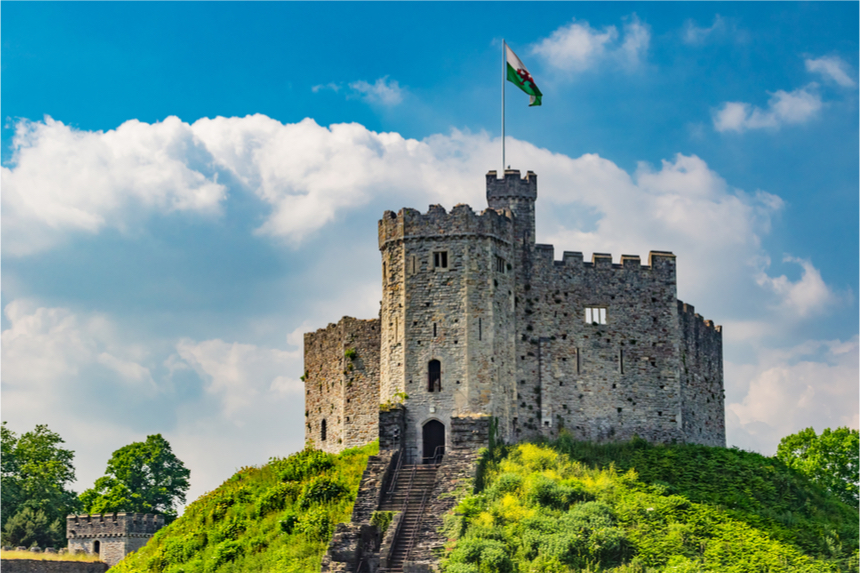 However, it was the 18th century acquisition of Cardiff Castle by the Bute family that was to dramatically change the appearance of the castle. Several towers were added, including the spectacular Clock Tower, and the entire castle was renovated in a rather fanciful medieval style. Fortunately, the renovations did not totally obscure the historical features of past construction.
The Barbican Tower and a new entrance hall were built in the 20th century.
The well-preserved castle is now in the hands of the city of Cardiff. The City Council maintains Cardiff Castle and provides guided tours of its beauty and history for a fee. Further information on fees and opening times can be found on their website at http://www.cardiff.gov.uk.