Dolbadarn Castle (or Castell Dolbadarn as it's known in Welsh) is a Grade-I listed building site of mostly decrepit remains that sits at the base of the Llanberis Mountain Pass. In its glory days, however, this imposing fortress was a mighty force and strategic military stronghold for North Wales, as evidenced by its prominent 50-foot tower––one of the most recognizable features that exist today.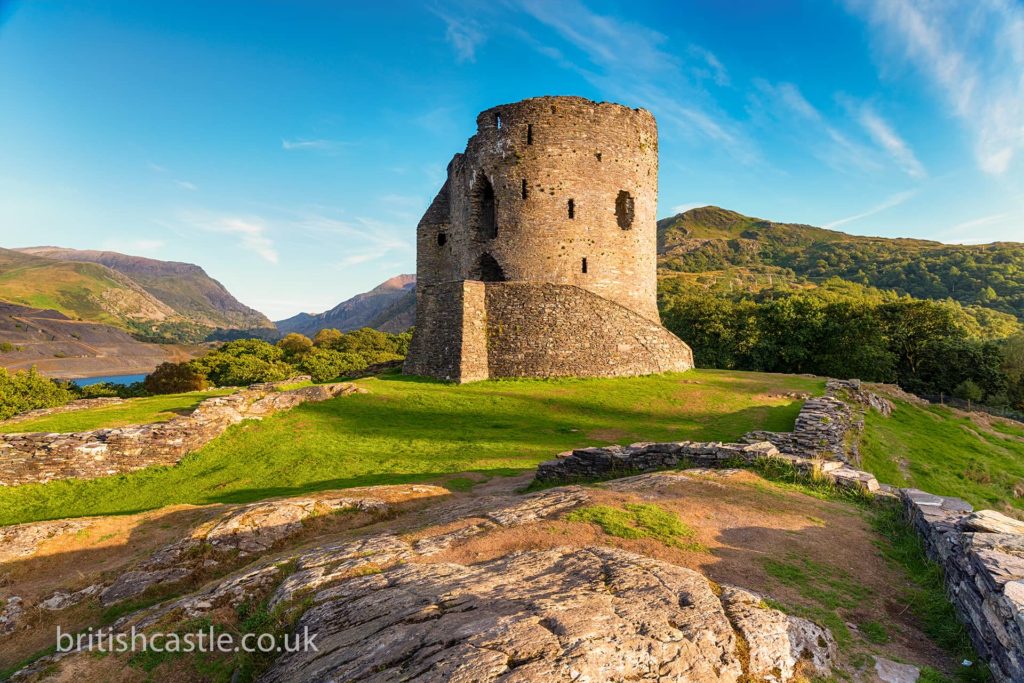 Following its capture in 1284 by Edward I during his invasion and conquest of North Wales, and what would eventually lead to his creation of the Castles and Town Walls in Gwynedd, Dolbadarn's stoic composition eventually deteriorated, both literally and figuratively. But this relic of Welsh history has its share of stories to tell.
History of Dolbadarn
When it comes to the exact date of breaking ground, little is known about Dolbadarn, but historians gather that its origin dates to around the 1220s. Following the advancement of the Normans throughout Wales in the late 11th century, in which they established plots of lands in the north. It was around this time that castles––structures not traditional to Wales––were seen popping up in larger numbers throughout the peaks and valleys.
By this time, looming threats from the kings of England continued to make waves into Wales. And, as such, Llywelyn the Great, one of the powerful Welsh princes of Gwynedd, took a proactive approach and assembled the building stone and timber that would become Dolbadarn Castle.
The fortress, which was built concurrently with another innovative structure, Castell y Bere, formed a tactical position at the base of the Llanberis Pass, overlooking the lake of Llyn Padarn.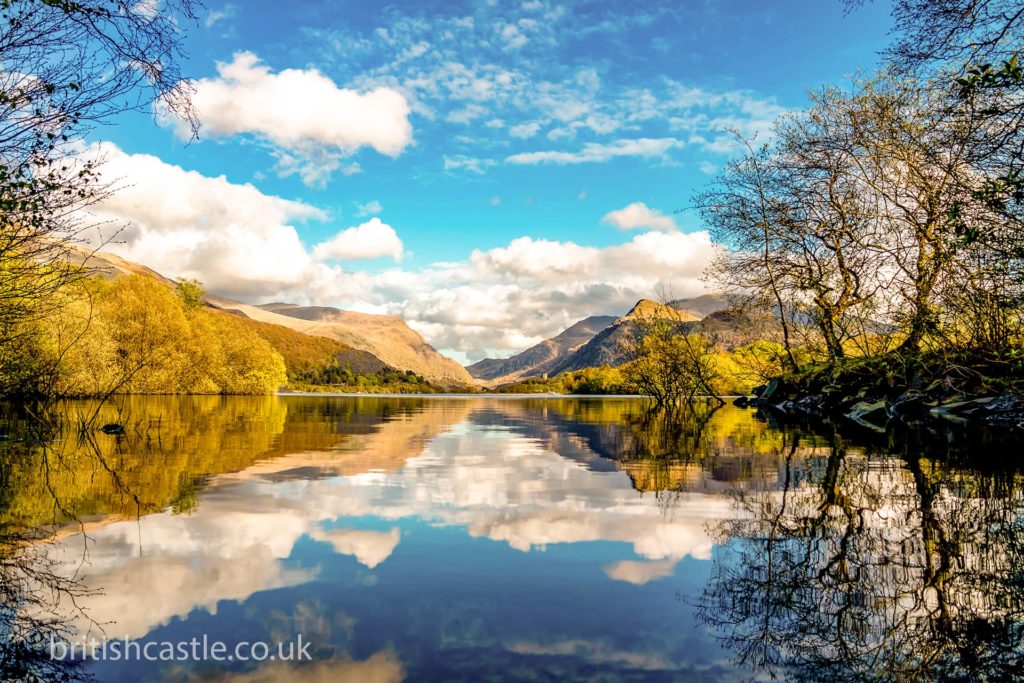 This specific positioning of Dolbadarn allowed the garrison an ideal vantage point for blocking opposing forces through this route of the north, while also adhering to political symbolism, given Llywelyn's authority as lord of the mountains.
While these elements were an integral part of Dolbadarn's initial construction, advancements in military technology and other flourishes were likely added in the late 1230s, just before Llywelyn's death in 1240.
Architecture and design of Dolbadarn
A simple, yet solid structure, Dolbadarn Castle's design and layout are intriguing to historians. Though little remains of the fortress today, what does is easily identifiable as a massive courtyard (that traces the natural shape of the hill on which it sits) and a round keep––the only element of the structure that appears to have been built from stone without mortar. The keep, which survives standing at 14m in height, is the only part of Dolbadarn that resembles that of its former shape.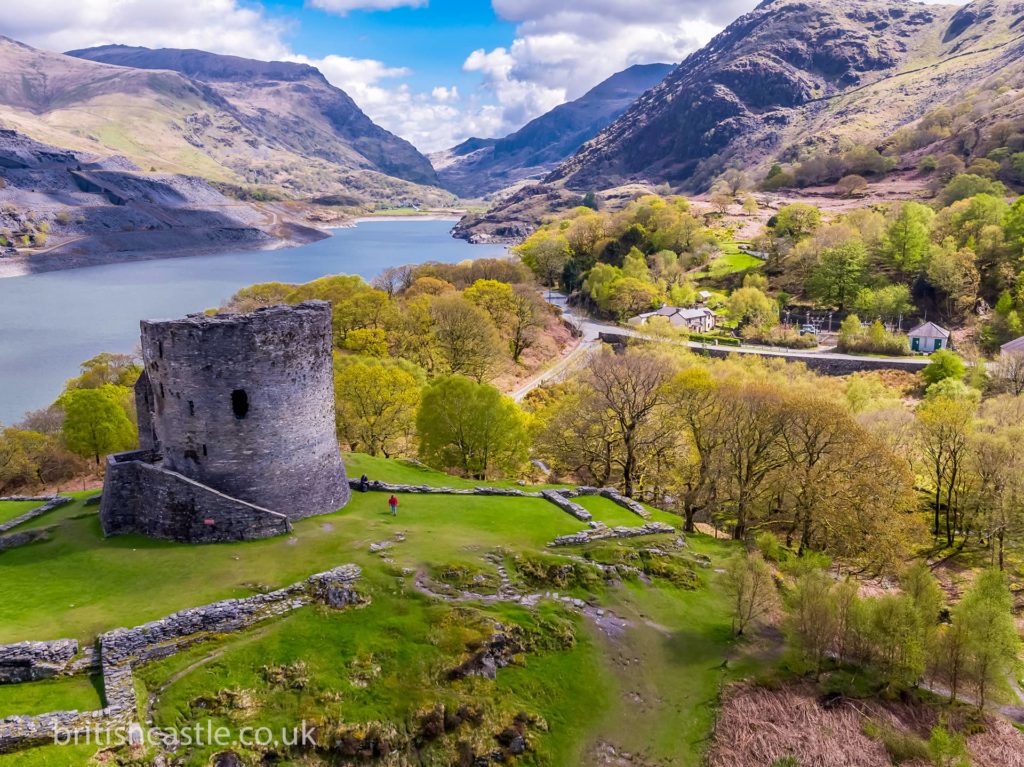 Like many Welsh fortresses built at the time, the entrance to Dolbadarn Castle was accessed via the first storey, not the ground floor, and was likely protected by a porch. A drawn portcullis would have featured along the keep, as well as battlements and a parapet, all of which have since been destroyed. While the fortress's interior floors have disappeared, the interior staircase leading up the keep towards the second storey is still intact and can be scaled by visitors.
The courtyard would have been protected by a solid curtain wall, likely 5m in height––the current wall has been eroded down to less than half of that. In all, Dolbadarn Castle can best be described as 'ruins', yet its current state is still a popular destination for historians and rock climbers alike.
Dolbadarn throughout the years
Dolbadarn was active for years following Llywelyn's death in 1240––but not as many as one might think.
Gwynedd's influence on the area declined significantly with the prince's death, and as a result, many of the eastern lands were claimed by England's King Henry III in 1247.
Llywelyn ap Gruffudd, also known as Llywelyn the Last (and grandson of Llywelyn the Great), assumed what power remained by the Welsh princes in Wales in 1255 and famously imprisoned his brother, Owain ap Gruffudd, in what many historians believe was Dolbadarn Castle, which allowed him to exercise his political reach. But meanwhile, the English were circling.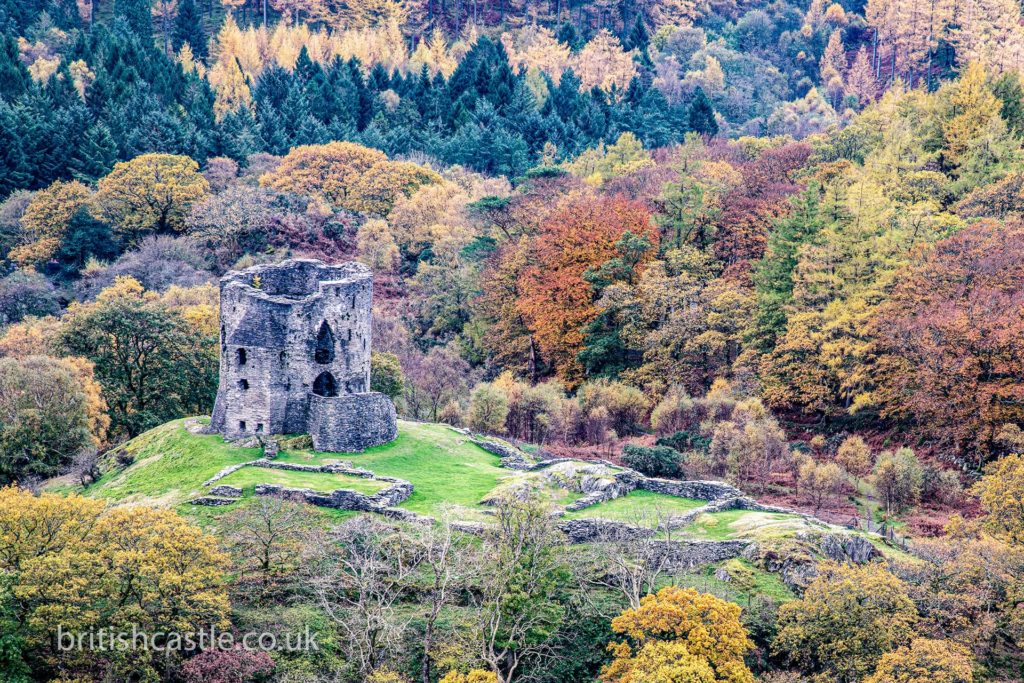 Llywelyn the Last fought against King Edward I when the latter moved his armies into North Wales with the intent to conquer the land for England, but the prince was defeated and ultimately killed near Builth Wells in 1282. Another member of the clan, Llywelyn's brother Dafydd ap Gruffydd retained power but was forced back by insurrectionists into Snowdonia. While there, he based his entire government from within Dolbadarn Castle. But the noble defence post at Llanberis Pass was no match for the might of the English armies and the fortress fell.
When it was seized in 1284 by Edward I during his conquest of Wales, much of Dolbadarn's timber was removed and repurposed during his build of a greater fortress down the Conwy Valley. Caernarfon Castle, one of Edward's most expansive sites, was comprised of much of the bones of Dolbadarn, rendering the latter irrelevant in terms of administrative authority. And while it was used as a manor house until the 14th century, Dolbadarn's decline proved inevitable and swift.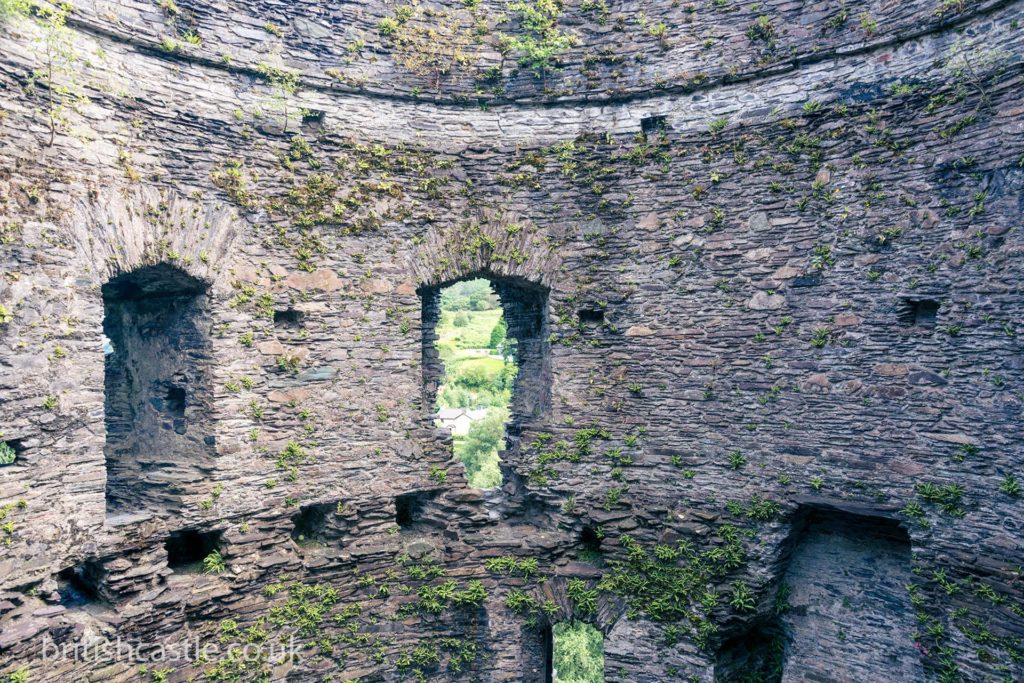 By the 18th century, Dolbadarn Castle was uninhabited and in ruins. However, its metaphoric power proved appealing to countless painters and impressionists of the era. One of the most famous works of artist J.M.W. Turner is his 1800 painting of Dolbadarn's ruins, featuring the iconic keep backlit in repose, with the waters and mountains of Snowdonia swirling colourfully in the background.
Today, Dolbadarn Castle in Wales is maintained by Cadw, the historic environment service branch of the Welsh Government, where it is preserved as a historic site. Despite its crumbling façade, it remains a popular tourist destination for events. Visit the website.