Interested in experiencing a part of Sussex's rich history? Then Hastings Castle is absolutely worth a visit. Read on for more information about this local landmark and what you should know before visiting it.
Hastings Castle History
Hastings Castle is an 11th century motte-and-bailey castle located in Hastings, East Sussex, England. It was first built in 1067 under William of Normandy as one of three structures he ordered upon arrival in the region, the other two located in Dover and Pevensey.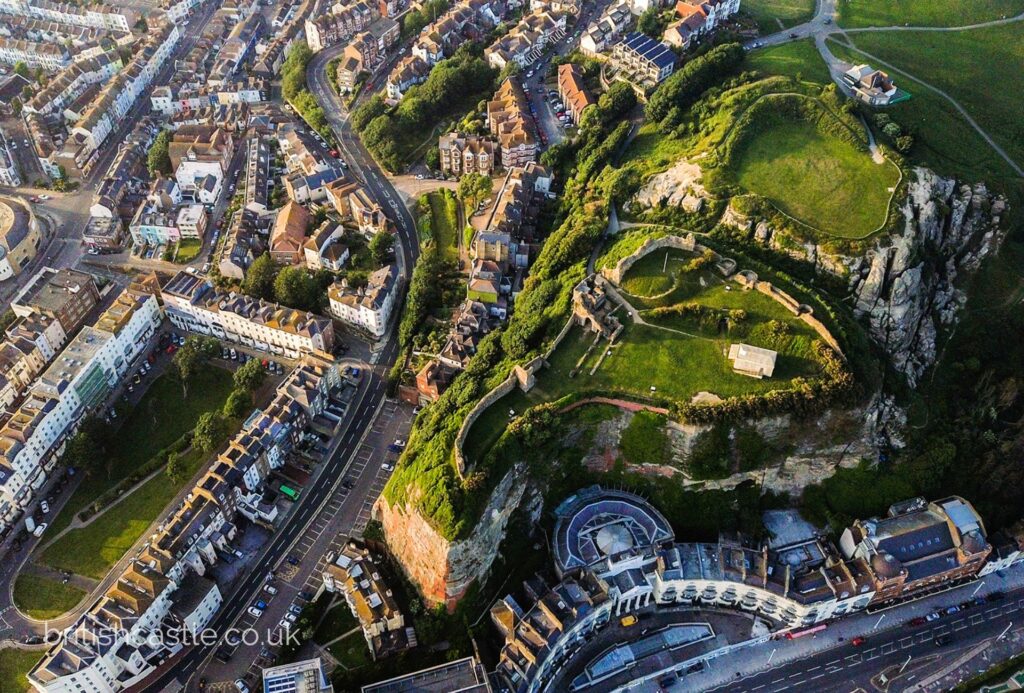 Originally made out of wood, Hastings castle was established atop of a man made mound and surrounded by an outer courtyard. It served as a means for William to oversee and defend the territory he besieged while ultimately acquiring the English crown from Harold II at the Battle of Hastings.
Total rebuild
After the battle, William had the castle rebuilt in stone. Many of the structures he had erected while in England were pre built and in poor condition after the fighting ceased. He issued an order to fortify Hastings Castle using stone with St. Mary's Chapel in 1070, eventually passing its ownership to one of his commanders, Humphrey de Tilleul, after completion.
Humphrey later decided to return to Normandy and granted Robert, Count of Eu control over the castle over the following years. He specifically required that 60 knights serve the crown in exchange for it, the town of Hastings and its surrounding lands.
Partial rebuild
Just over a century after its initial completion, Hasting Castle was once again partially rebuilt due to a lack of structural support on its south eastern corner. The reign of Henry II also saw further enhancements to the castle's overall form and structure.
When Normandy was lost to the French during the reign of King John, the English Channel suddenly became a hostile space. As such, the castles in and around Sussex were ordered to be dismantled – a strategic decision made to prevent them from being of any value to the enemy.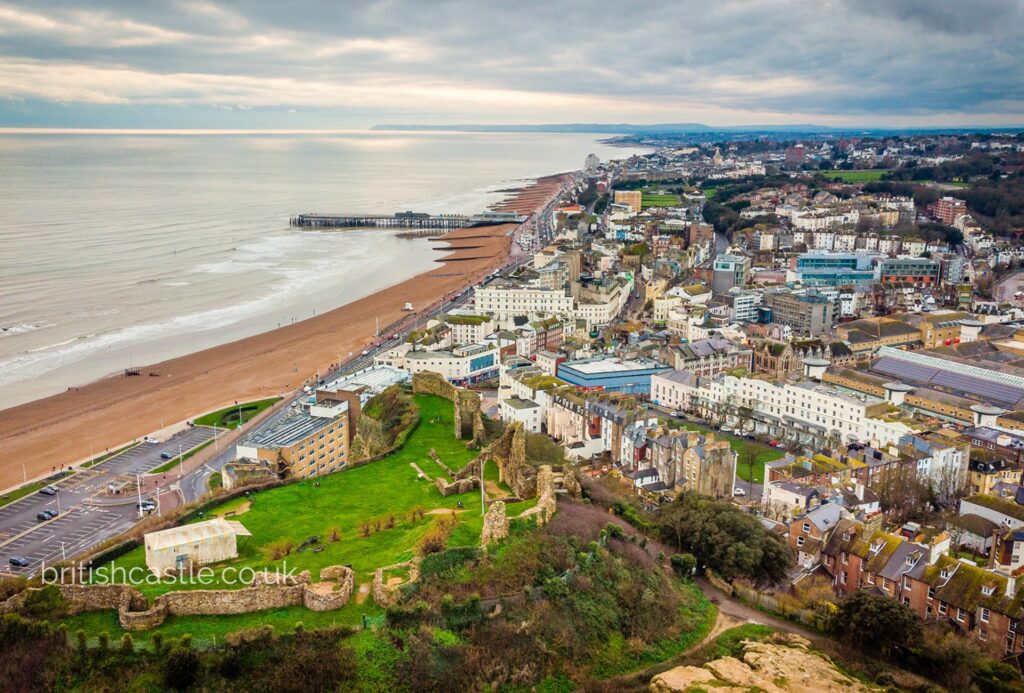 Hastings Castle, however, remained largely intact as it was too difficult to completely destroy. It was refortified in the mid 1220s and underwent more renovation work in 1249. King Edward I used the space in 1274 to issue naval ordinances to his fleet and it wasn't until over a decade later that use of Hastings Castle became sporadic. In 1287, the cliff supporting the castle's south wall collapsed, causing a large portion of the wall to fall into the North Sea.
Hastings Castle proceeded to take several beatings – both natural and human-inflicted – over the following years. The French attacked it in 1337 and then again in 1339, at which point it was essentially reduced to ruins.
While functionally dilapidated, the castle's land and remaining structures remained of value to locals. A private family ended up purchasing and using them for farming over a number of centuries, until the property was excavated and reconstructed in 1824. This is when it was first used as a tourist attraction – English and foreign visitors alike coming to see the site of the Battle of Hastings – little do they know that the battle of Hastings actually took place in nearby Battle and not in Hastings itself. The castle's dungeons were even rediscovered near the north gate at this time, which served as an even closer connection to the past for tourists.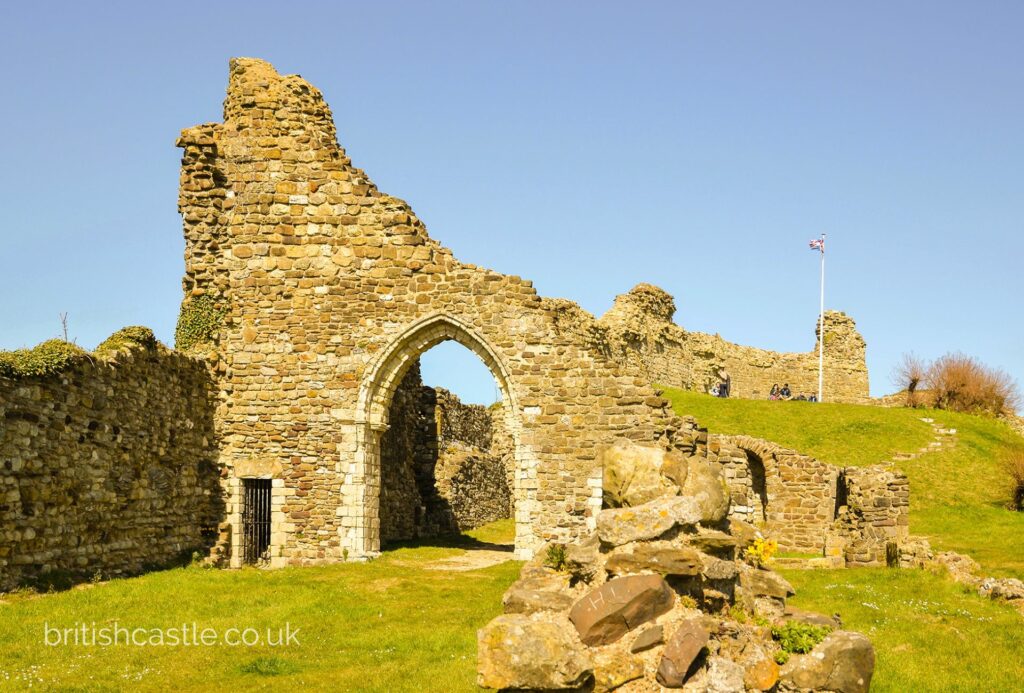 Of course, it hasn't been plain sailing for Hastings Castle since then. It changed hands multiple times over the years, bore the brunt of several severe storms and several nearby bombings during the second world war. Eventually, its owners gave up in trying to fully rebuild it and decided to focus on preserving what remained. Hastings Corporation purchased it in 1951 and it continues to be used as a site for public events, educational programs and historical recreation.
Hastings Castle Structure
Hastings Castle was originally built from wood and then refortified with stone in 1070. Despite being on the receiving end of numerous attacks over the past thousand-plus years, an impressive amount of its original architecture and detail remain. The building's layout starts with a North gate, dungeons located to its left thereafter. Its largest remaining walls are those of the Chapel of the Holy Cross, which are also located along the North side of the structure. Remains of both the East gate and East wall are more damaged, however can still be seen. Hastings Castle also maintains a high archway and spiral staircase – both original features from when it was first built.
To the South of the castle is where the most damage occurred – both from the original collapse in 1287 as well as later French attacks. What's left of the South wall provides a beautiful view of the sea, as it stands almost 30 feet tall in some places. The castle's keep is also located in this area and, despite being hit the hardest over the years, is still an awe-inspiring sight. It's believed to have been three stories tall when first built and would have had a grand view of the area from its top. While only the bottom story remains, it's still an excellent example of Norman architecture.
The castle's grounds have also been kept up over the years and are a perfect place to explore or have a picnic. The majority of the land is covered in grass, with a few trees and bushes here and there. What's really to love is the view – on a clear day, you can see for miles in every direction.
Whether you're a history buff or just looking for a nice place to spend an afternoon, Hastings Castle is definitely worth a visit. Its rich history and impressive architecture are sure to leave a lasting impression.
Hastings Castle Use Throughout the Years/Cultural Relevance
Hastings Castle is part of a select few remaining Norman castles in England and, as such, is of great architectural and historical importance. For almost a thousand years it has been a symbol of the town of Hastings, playing a role in everything from the Battle of Hastings to the second world war. Its construction during the early years of the Norman Conquest was depicted in the Bayeux Tapestry – one of the most famous pieces of mediaeval art in existence.
In more recent years, the castle has become a popular tourist destination. It's located just a few minutes' walk from the town centre and is easily accessible by public transport. Visitors can explore the castle grounds, learn about its history at the on-site museum or take part in one of the many events held there throughout the year. These have included a recreation of the Battle of Hastings, an outdoor cinema screening and mediaeval-themed markets.
Visiting Hastings Castle
Hastings Castle is a great place to visit if you're interested in history or just want to explore a beautiful piece of architecture. It's visited by thousands of tourists every year and is considered one of the most popular tourist destinations in England. The following are some key things you should know when planning a visit.
Location
Hastings Castle is located in the town of Hastings, on the south coast of England. It's easy to reach by car, and there is a public car park near the castle. You can also take the West Hill Cliff Railway from town to the top of the cliff where the castle is located.
As for the land itself, Hastings Castle resides atop a cliff overlooking the local town and North Sea and is reachable by a short walk from the town centre. If you're coming from further away, the nearest train station is Ore, which is about a 20-minute walk from the castle.
Hours of Operation
Hastings Castle is open on a seasonal basis, closed every late fall until the following February. Its general hours are 11am to 5pm. However, it's always best to check the castle's website before your visit to confirm the most up-to-date information.
Cost of Admission
Admission to Hastings Castle will vary by visitor age but generally ranges between £5 and £6.25. The group that runs the property, Smugglers Adventure & Hastings Castle, also offers a joint ticket that includes admission to both the castle and Smugglers Adventure, a nearby attraction. This will cost between £17.25 and £21.94.
Special Considerations
Hastings Castle is a historic site, so there are a few things to keep in mind when visiting. The grounds are uneven and there are stairs in some areas, so it may not be suitable for those with mobility issues. There is also no food or drink available on site, so you'll need to bring your own. Finally, be sure to dress for the weather as there is little shelter from the elements.
Things to Do At and Near Hastings Castle
Is Hastings, UK worth visiting? Well, in addition to exploring the castle itself, there are a number of other things to do in the area. Here are some suggestions.
Check Out the '1066 Story'
Hastings Castle is home to an on-site cinema that screens a short film called the '1066 Story'. The film tells the story of the Norman Conquest and the Battle of Hastings, both of which are significant events in English history. It's a must-see for anyone interested in the castle or its history.
Visit the Smuggler's Adventure
Smuggler's Adventure is a nearby attraction that offers an insight into the smuggling trade that was once prevalent in the area. It's located in St. Clement's Caves, a series of man-made tunnels that were once used by smugglers to store their illicit goods. The attraction includes a guided tour, an audio-visual show and a museum. It's suitable for all ages and is a great way to learn about the area's history.
Take a Walk Along the Coast
The coast near Hastings is beautiful and there are a number of walking trails to enjoy. One option is the 1066 Country Walk, which runs for 50 miles (80 kilometres) from Rye to Pevensey. This is a linear route, so you can start and finish at any point along the way. If you're looking for something shorter, there are also a number of circular walks in the area ranging from 2 to 10 miles (3 to 16 kilometres).
Go Wine Tasting
Hastings is home to a number of vineyards, and many offer wine tasting experiences. This is a great way to sample some of the local produce and learn about the area's viticulture. There are a few different vineyards to choose from, so you can easily find one that suits your taste.
Visit Hastings Pier
Hastings Pier is a great place to enjoy the views, take a walk or just relax. It's about 0.6 miles (1 kilometre) from the castle and can be reached by walking along the seafront. There is also a miniature railway that runs along the pier if you fancy a ride.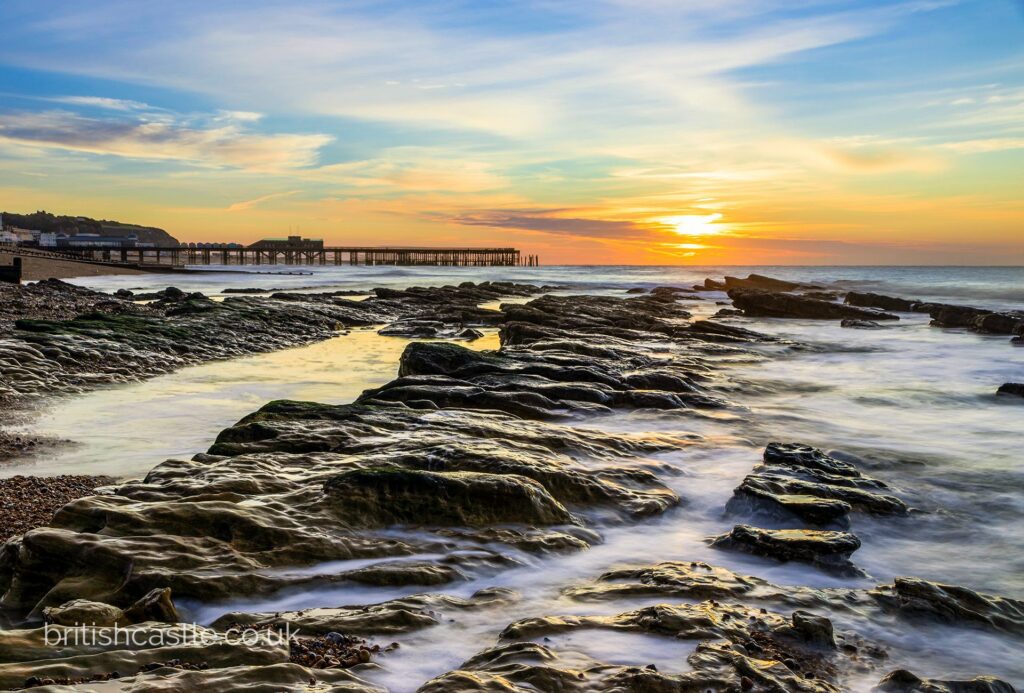 Go on a Boat Tour
If you're interested in learning more about the area's history, consider taking a boat tour. There are a number of operators offering tours of the coast, and some even go as far as France. These tours typically last between 2 and 3 hours.
Sample the Local Cuisine
Hastings is known for its seafood, so be sure to try some while you're in town. From fish and chips to more refined fare, there's something to suit every taste. There are many great restaurants in the town centre, or you could buy some seafood from one of the many stalls along the seafront and enjoy a picnic on the beach.
Explore the Town Centre
Hastings town centre is worth exploring for its shops, cafes and historic buildings. If you're interested in doing some souvenir shopping, head to the town's priory ruins where you'll find a number of stalls selling locally made arts and crafts. For something different, pay a visit to the Hastings Contemporary, which is dedicated to contemporary art. It's located in the town centre and admission is free.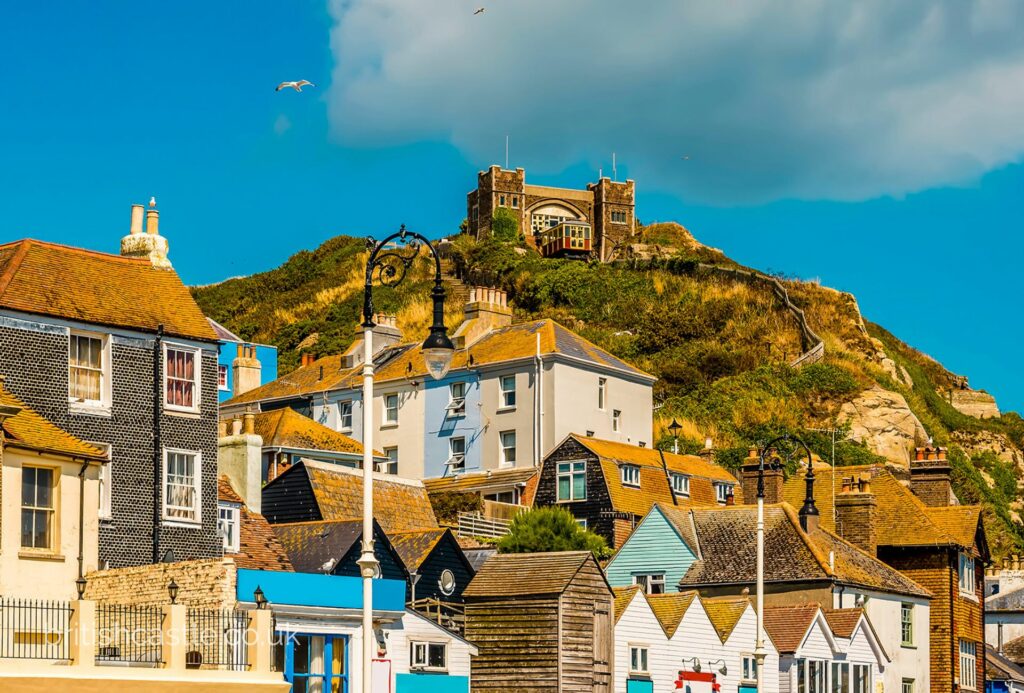 Visit the Hastings Aquarium
The Blue Reef Aquarium is a great option if you're travelling with kids. It's located in the town centre and is home to over 4,000 marine creatures. There are also a number of hands-on exhibits, so children can learn about sea life while having fun.
FAQs About Hastings Castle
Make sure you're well-informed before you visit Hastings Castle by reading through these frequently asked questions.
Are Dogs Allowed at Hastings Castle?
Yes, dogs are allowed on outdoor grounds at Hastings Castle, but they must be kept on a lead at all times. Local laws require that all dogs in public places be kept on a lead unless they are in a designated dog-friendly area.
How Long Does It Take to Visit Hastings Castle?
The amount of time it takes to visit Hastings Castle will entirely depend on how thorough you want to be. A castle this size could easily take a whole day to explore, especially if you want to visit all the different rooms and towers. However, if you're just looking to get an overview of the castle, it could take as little as an hour.
What Is the Best Time of Year to Visit Hastings Castle?
The best time of year to visit Hastings Castle is between April and July. The weather is generally nicest during these months, making it more pleasant to walk around the castle grounds. It is important to remain aware of the specific days you choose to visit however. Like many tourist attractions, Hastings Castle is most crowded on weekends and during school holidays.
What Should I Wear to Hastings Castle?
There is no dress code for visiting Hastings Castle, but it is recommended that you wear comfortable shoes as there is a lot of walking involved. The castle grounds can also be quite muddy, so avoid wearing your best shoes.
Is There Parking at Hastings Castle?
Yes, there is a large car park near the entrance to Hastings Castle. The fee is £4.00 for all day parking.