Harlech Castle is a 13th century castle situated in Harlech in Wales. It occupied a strategic defensive position overlooking the sea and it is known that an ancient Celtic fortress, Twr Branwen, had previously stood on the site.
The concentric castle stands on top of a steep cliff face ensuring that only the east side was open to attack. A strong twin-towered gatehouse, measuring 80 x 54 feet, guarded the entrance with the passageway containing three portcullises, doors and murder holes.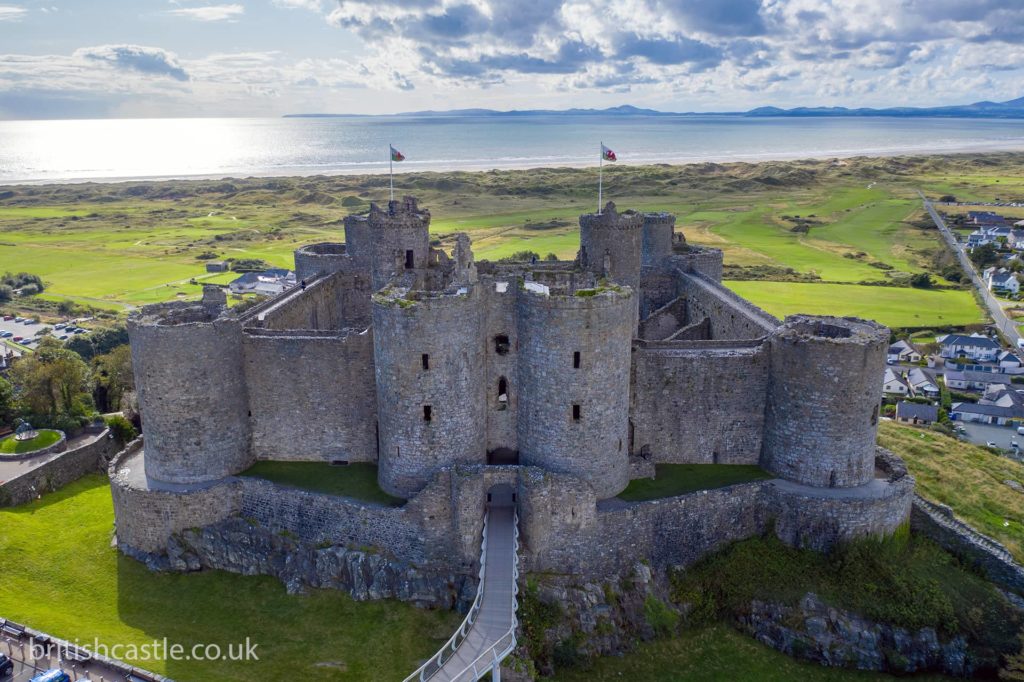 There were guardhouses to either side of this passage and the upper floors of the gatehouse contained the private living quarters. A fortified stairway, known as the Way to the Sea, led down to the sea and during times of attack supplies were shipped in to the defending garrisons.
The outer wall of the castle is in ruins but the inner walls and huge round towers remain at nearly their original height. The square inner bailey was small and contained the great hall, kitchen and other domestic buildings. A chapel was situated against the north wall and a second hall was against the south wall. Additional living accommodation was provided in the corner towers.
Harlech Castle played a key role in the national uprising led by Owain Glyndwr. After a long siege, it fell to his forces in 1404. The castle became Glyndwr's residence and headquarters, and one of the two places to which he is believed to have summoned parliaments of his supporters. It was only after a further long siege in 1408 that Harlech was retaken by English forces under Harry of Monmouth, later Henry V.
Harlech Castle is managed by Cadw, the historic environment service of the Welsh Assembly Government. It is a World Heritage site and is open throughout the year except for the Christmas and New Year holidays.