Wales offers various places for you to explore, but, as you might expect, our favourite place, or rather, places to explore are the castles in Wales.
There are over 400 castles in Wales. If you wanted to visit them all then a week wouldn't be anywhere near enough to complete one's itinerary.
So where to start?
We've compiled this list of 12 of the best castles in Wales to explore from the 11th century all the way down to the 17th century to help you save some money, travel expenses, and of course, to spare your backs and feet from all the pain of walking tirelessly.
Let's begin.
12 Best Castles In Wales
1. Caernarfon Castle
Caernarfon castle is one of the oldest castles in Wales, dating back to the 13th century. It's beautiful, stunning, and resembles an Edwardian-style castle. [R]
However, Caernarfon replaced an earlier motte-and-bailey castle that originated as far back as the 11th century.
History reveals Caernarfon castle served a primary purpose: it acted as the administrative centre of Northern Wales during the reign of King Edward I.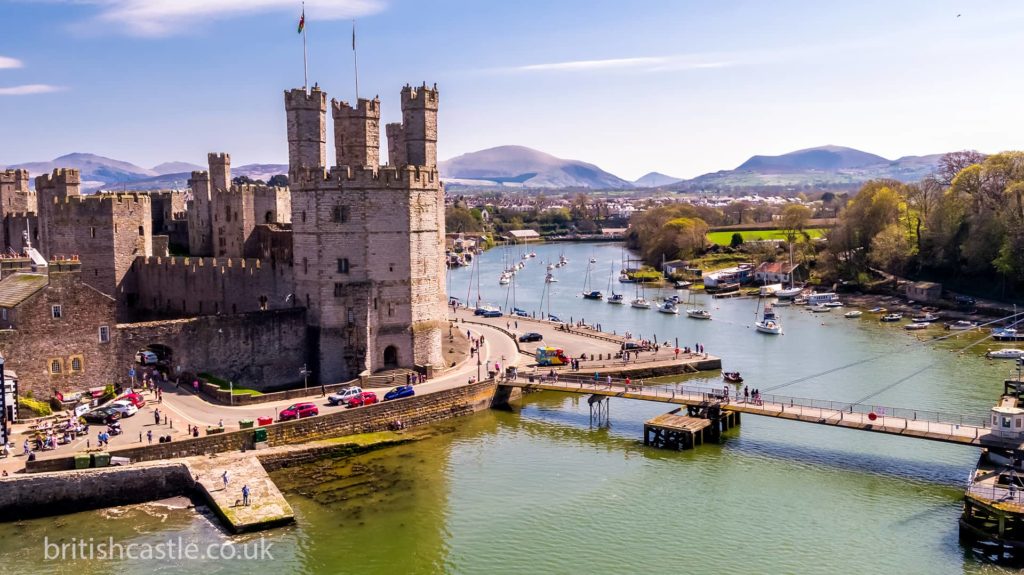 The castle was built and designed by James of St. George in 1283, and the outer walls still stand strong today.
To give you a little historical background on Caernarfon Castle: it was besieged several times and slowly fell into despair when the relationship between England and Wales became more steady.
After it fell into despair, Caernarfon castle was neglected and lost its significance, not until the 19th century where most of it was repaired and restored.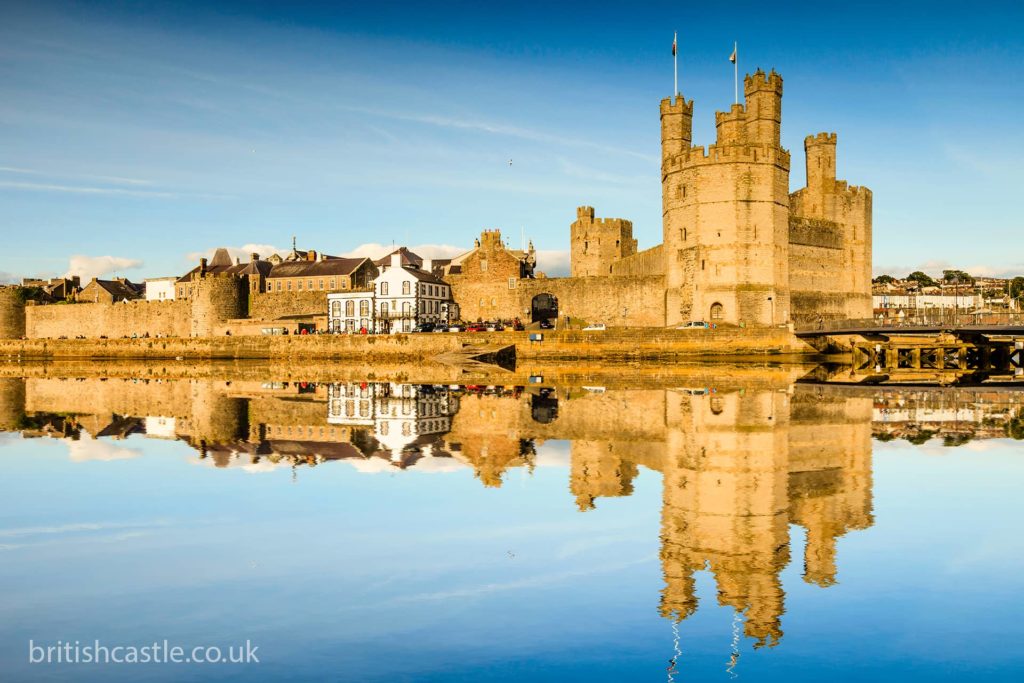 However, even with all the repairs and restorations, it was never finished the way it was intended.
Nevertheless, the King and Queen's gates, polygonal towers, and the Ward are fascinating parts of the castle worth exploring.
Finally, Caernarfon is also the birthplace of the first Prince of Wales (Edward II) and belongs to the Iron Ring castles in North Wales.
2. Raglan Castle
Raglan castle is located in Monmouthshire, which is not too far from the border with England. For the travel junkie, if you fancy yourself a little trip, Raglan castle is beautiful to see!
It's worth noting that Raglan is one of the last medieval castles in Wales, dating back to 1430.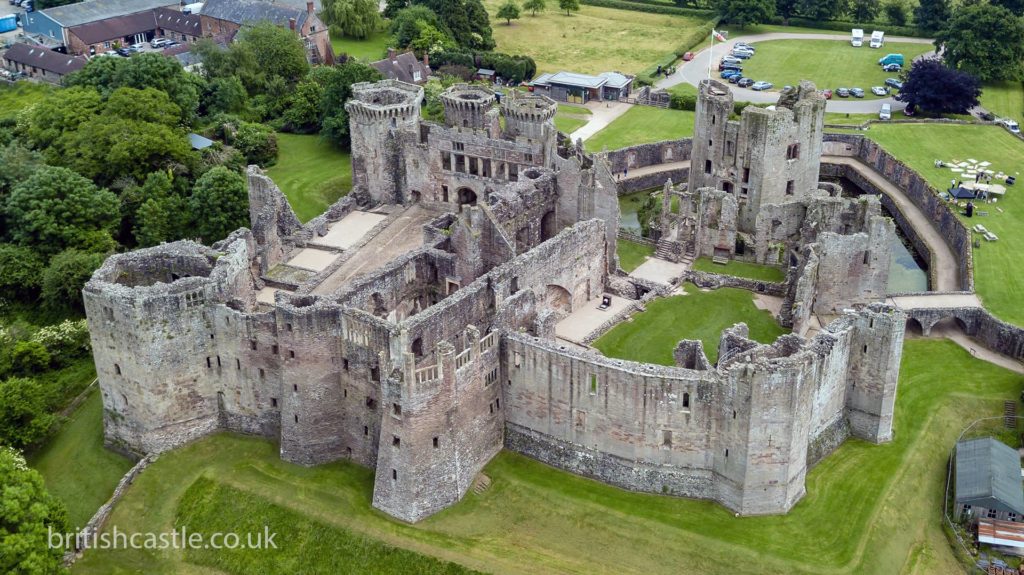 During the late 16th century, Raglan Castle underwent major structural changes commissioned by Sir William ap Thomas. [R]
Some noteworthy additions and changes include:
A six-sided gatehouse
Apartments built around the scenic courtyard
A moat around the Yellow Tower of Gwent
Cellars that once housed hundreds of wine caskets
Unlike most of what we mentioned here, this sandstone castle reveals its construction paid more attention to comfort and luxury instead of solely as a defensive fortress.
In fact, Raglan castle was built to portray the power of influence and wealth during these times. Now wouldn't that be a sight to see in Wales?
3. Chirk Castle
Chirk castle is one of the finest castles in Wales built during the reign of King Edward I. In fact, most of the castles built during the reign of King Edward I hold impressive structural and aesthetic designs.
Chirk castle was completed in 1310 and primarily served as a strategic position for overlooking Ceirog Valley's entry point.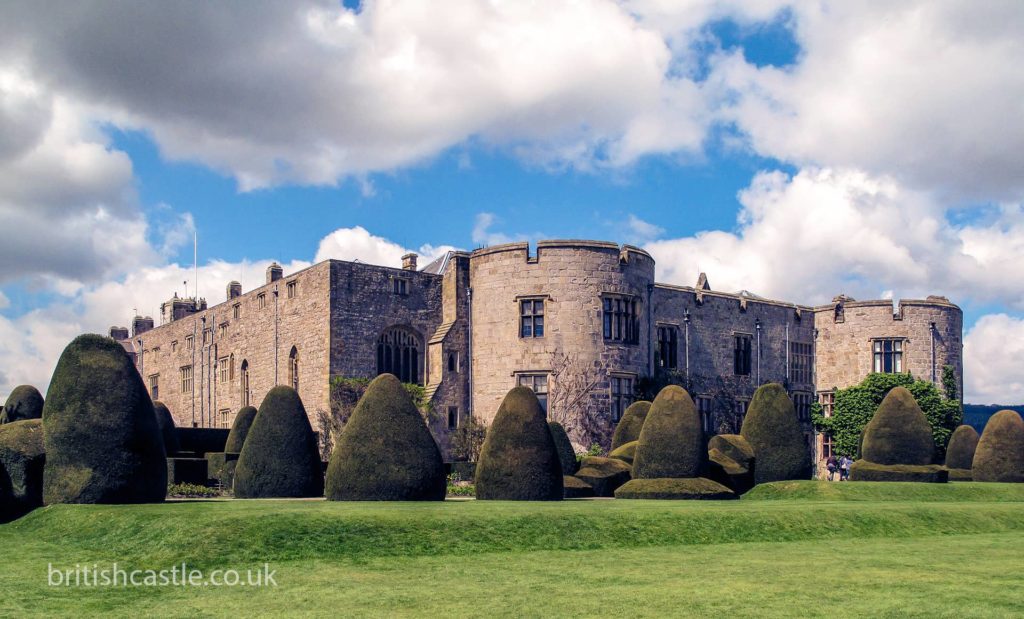 A structural element worth noting are the drum-rounded towers, which made it ideal for archers to overlook and protect the entire area. Furthermore, Chirk castle's walls were 5 meters thick, making it an impregnable fortress.
To this day, Chirk castle is the only castle constructed during the reign of King Edward I that is still being inhabited.
As a military fortress, it is indeed impressive, but as a sightseeing attraction, it's just as marvellous.
Visiting Chirk Castle will allow you to wander and admire the 5 acres of beautiful roses, manicured lawns, and 5 acres of its pristine gardens.
4. Conwy Castle
Conwy castle, built during the reign of King Edward I, is part of the collection of castles of North Wales that he had built during his reign.
Dating back to the late 13th century, Conwy castle served as an important fortress in forming the town of Conwy.
This was proven multiple times since this castle underwent several sieges in its time. Architect James of St George [R] was responsible for its impressive defensive architecture that features 2 fortified gates, 8 massive towers, and a gigantic great hall.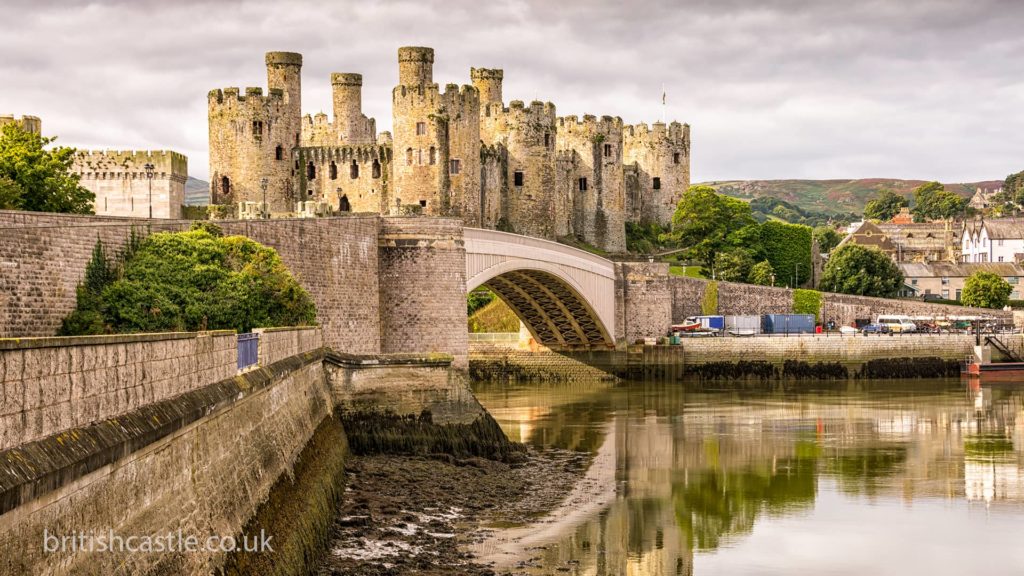 Conwy castle is also recognized as a UNESCO World Heritage Site and classified as one of the finest military structures and architecture examples in the 13th century.
If you're planning to visit Conwy castle, be sure to bring a nice camera too! The view is breathtaking, and it would be a shame to miss out on a few shots worth keeping.
Or better yet, you can go on a guided tour to visit the castle's royal chambers, chapel, and outer ward featuring the kitchen, garrison, stables, and prison.
5. Pembroke Castle
Located in Southeast Wales, Pembroke castle is one of the oldest and best-preserved castles dating back as far as 1093.
It's also the largest privately owned castle.
What makes Pembroke castle of historical significance is how it stands as Henry VII's birthplace and is built above Wogan Cave. [R]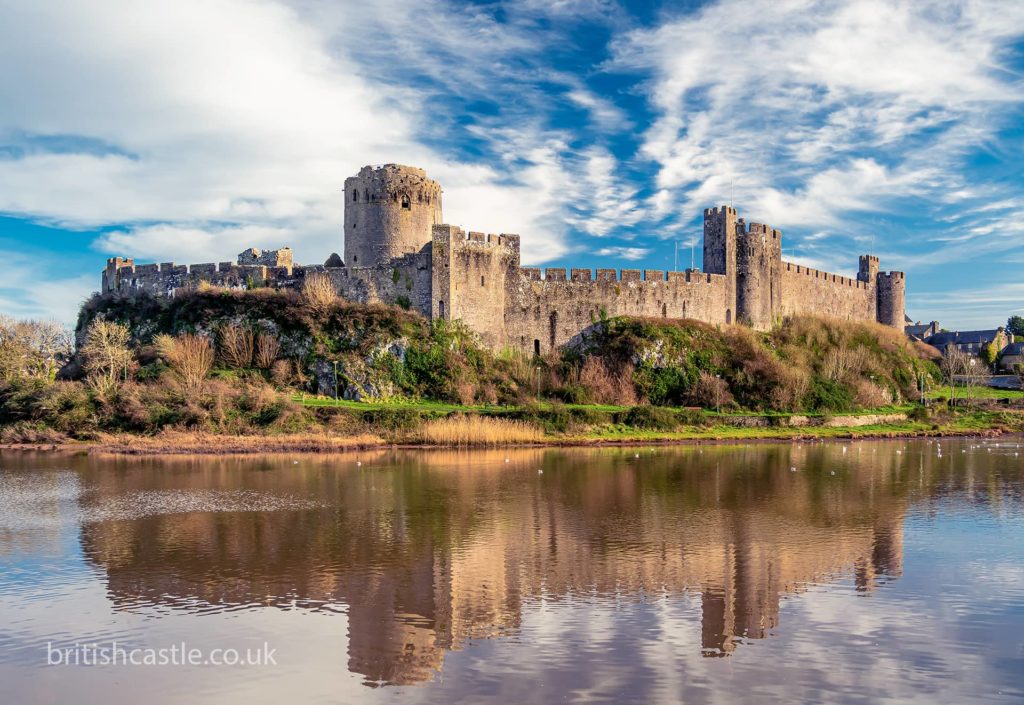 Wogan Cave is known to have been used and inhabited since the Paleolithic and Mesolithic periods. This cave served as a vital structural element where it became part of Pembroke castle's defences.
In 1648, Oliver Cromwell and his forces laid a 7-week siege before finally taking the castle down during the English Civil War.
Although this left the castle mostly in ruins, it was later restored in the 1900s before falling into complete decay.
Pembroke castle is indeed worth visiting as one of its main highlights is a staged tableaux that depicts the events of the castle's battle re-enactments, history, and falconry displays.
6. Beaumaris Castle
Beaumaris Castle is a North Wales castle that signifies the beauty of Medieval architecture [R] and the design of none other than James of St George during the reign of King Edward I.
Built in 1295, Beaumaris Castle is located on Isle Anglesey in Gwynned County that sits harmoniously in its surrounding landscape – a distinctive quality worth appreciating.
James of St. George had perfected the art of castle building during this period, so it's undoubtedly a marvellous castle in Wales you can't miss.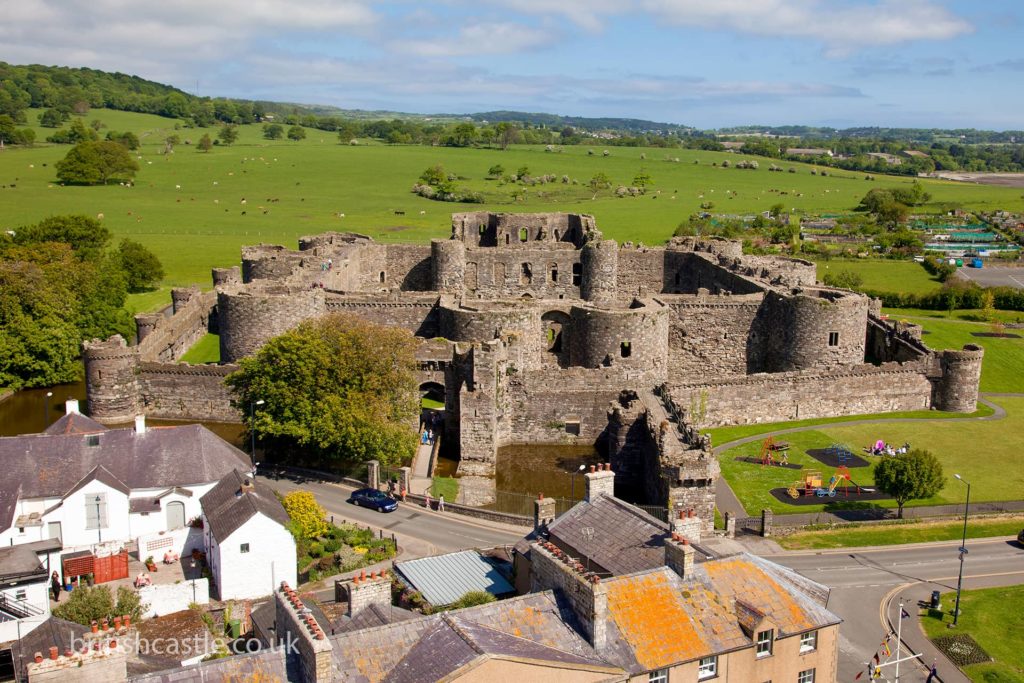 The perfectly symmetric concentric walls and rounded drum towers are only some of the beautiful aspects that make up this Medieval marvel.
Visitors from all over the world will enjoy exploring the grounds of Beaumaris castle and all the architectonic precision anyone would love to take a photo of.
7. Cardiff Castle
When touring Cardiff city, it's not enough to just catch a glimpse of Cardiff castle.
The castle dates back to the 11th century and showcases a lot of historical events just from its appearance alone.
During the English Civil War, Parliamentary forces laid siege to Cardiff castle but was taken back by Royalist supporters.
In the mid-18th century, Cardiff castle was transformed into a Georgian mansion and inspired by the Gothic Revival style.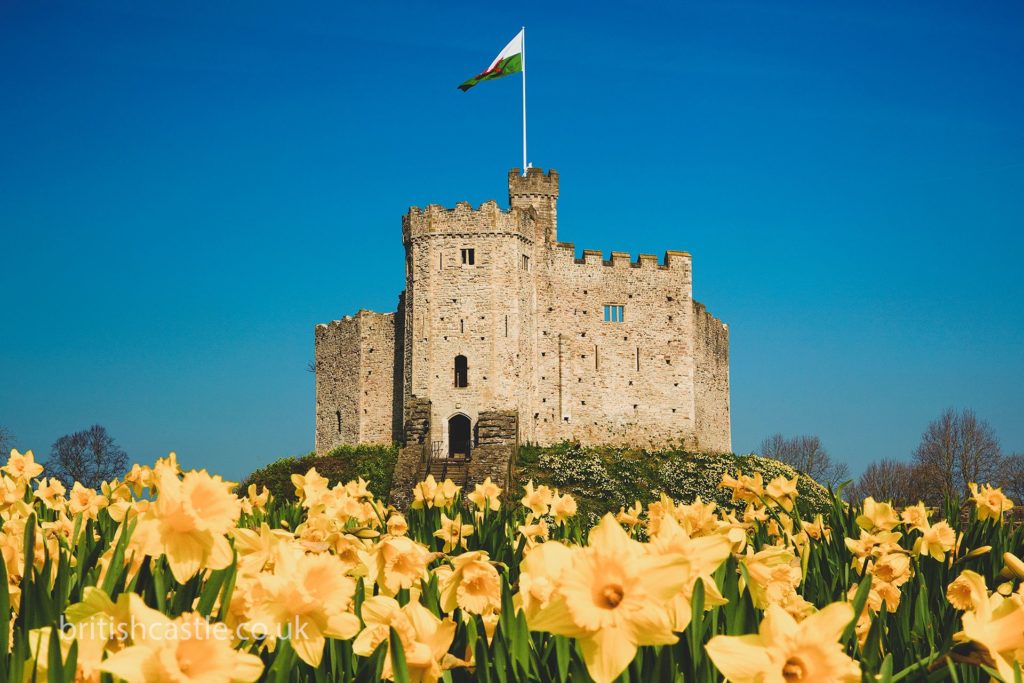 It's safe to say that Cardiff castle portrays the beauty of Gothic architecture largely thanks to William Burges, who performed the majority of renovations and on behalf of the third Marquess of Bute.
The interiors found inside the castle are the main highlight and, honestly, worth every second spent in this Gothic Revival-style castle.
Cardiff's interior designs include the stained glass elements, Firing Line Regimental museum, beautiful murals, delicate wood carvings, and marble material.
8. Caerphilly Castle
Located in Southern Wales, Caerphilly castle is regarded as the first true concentric castle in Wales and served as a defensive fort against Llywelyn ap Gruffydd, Prince of Wales.
Caerphilly castle was built on an ancient Roman fort by Earl Gilbert de Clare in the mid-to-late 13th century (1268) and is surrounded by a fully-flooded moat.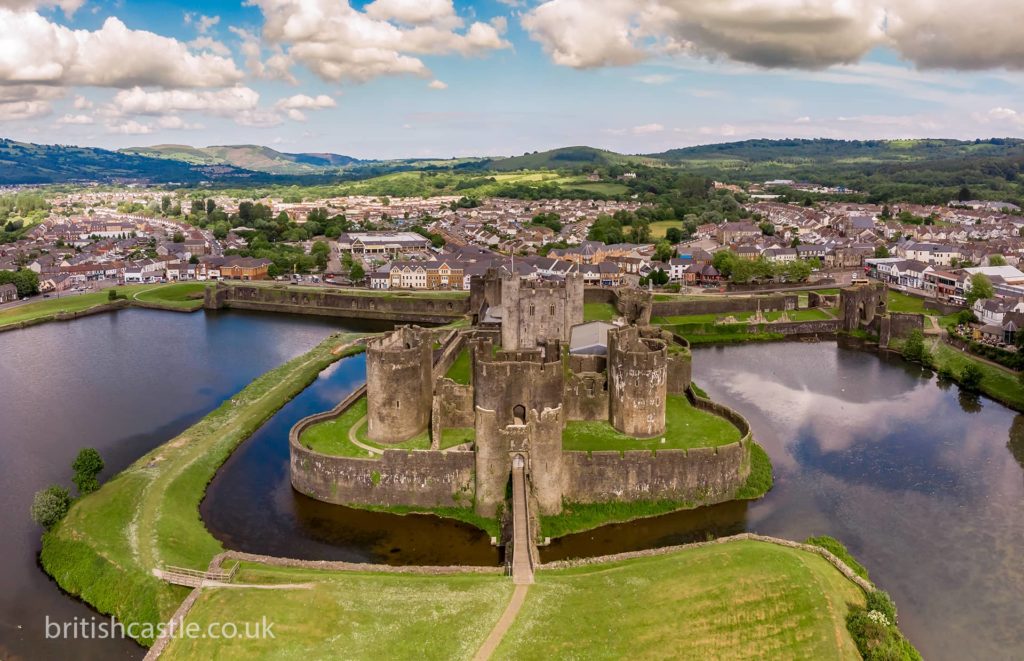 What's even more impressive is the castle site's size, measuring 30 acres and considered the second largest castle in Britain.
Despite the castle's impressive design and structure, it was described as being in a state of ruin during the mid-16th century. However, Caerphilly castle was later restored thanks to the wealth of a coal baron in the Victorian Era. [R]
9. Powis Castle
Although considered one of the medieval castles in Wales, Powis castle features a red stone exterior a distinctive quality that really sets it apart.
Furthermore, it's one of the few castles in Wales that never fell into despair, standing and surviving the test of time.
Over time, Powis Castle underwent several changes and improvements to make it what it is today: a royal manor house that houses artefacts from India, beautiful interiors, and an art collection to give visitors an enjoyable tour.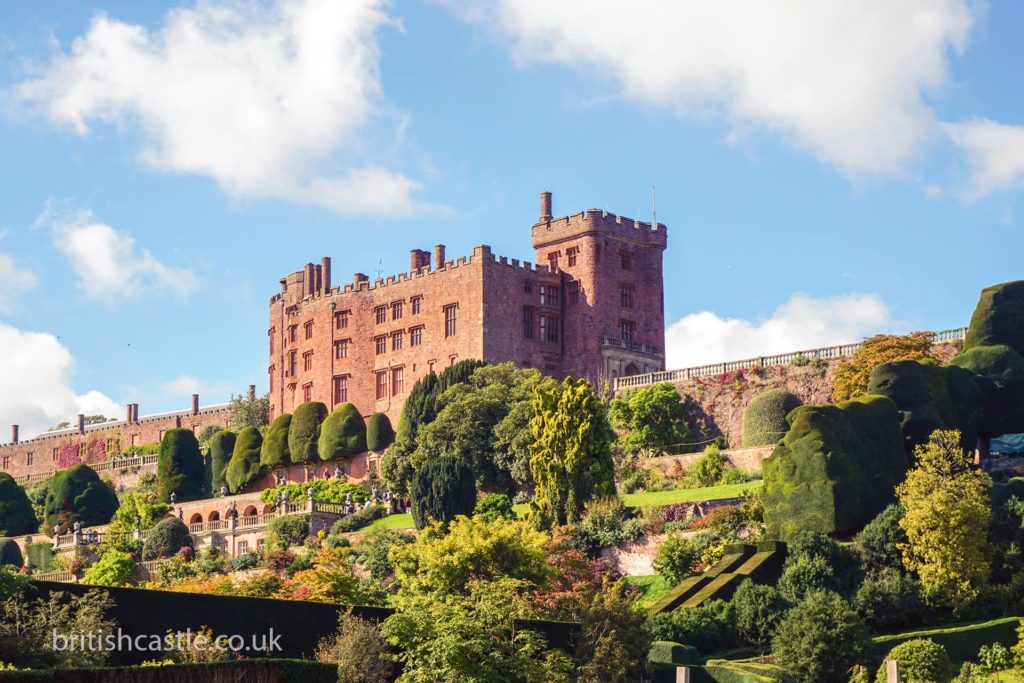 Most of all, Powis castle is known for the Baroque gardens being one of the finest gardens in the United Kingdom that displays centuries-old yew trees and a unique, stunning landscape.
10. Castell Coch
Castell Coch is one of the few Welsh castles that's easy to get to.
However, Castell Coch stands out compared to other Welsh castles is its fairytale-like appearance, specifically the cylindrical turrets.
The cylindrical turrets are a structural design commonly found in mainland Europe and resemble a Gothic Revival style.
I wouldn't say Castell Coch is a Welsh castle due to its Victorian composition and High Victorian elements.
Even though Castell Coch isn't as old as the others mentioned in this list, it's truly charming in appearance.
Upon arriving here, immerse yourself in the castle's fairytale-like grounds and castle construction. Wander around its rooms and enjoy the beauty of Gothic architecture! [R]
11. Harlech Castle
Harlech castle isn't exactly an impressive castle built in Wales, but mostly, the landscape surrounding Harlech castle is what makes it so noteworthy.
The landscape is enough to inspire anyone to sit by the cliffs to ponder, journal, and enjoy the breathtaking view for hours.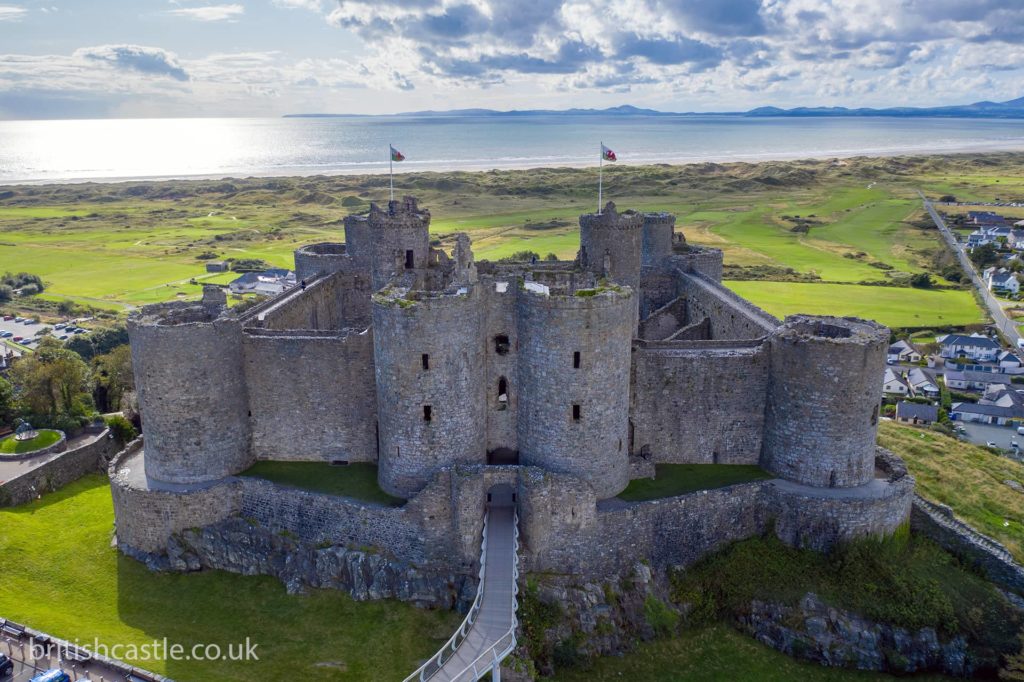 Harlech castle's main purpose was to establish English Rule. Sad to say, this sandstone castle was subject to multiple sieges and, most notably, the Wars of Roses, which date back to the 15th century.
The damage done to Harlech castle during the 15th Century was never repaired, and although the Parliamentary forces ordered its destruction, the orders weren't carried out fully.
Fortunately, this allowed some of the castle's parts to survive and make it available for visitors to tour and enjoy today.
12. Criccieth Castle
Last but not least, Criccieth castle is yet another medieval castle showcasing the influence of King Edward I had on Welsh castle fortress construction.
The castle was built during the late 13th century by Llywelyn the Great and resembled many features to that of Edwardian castles.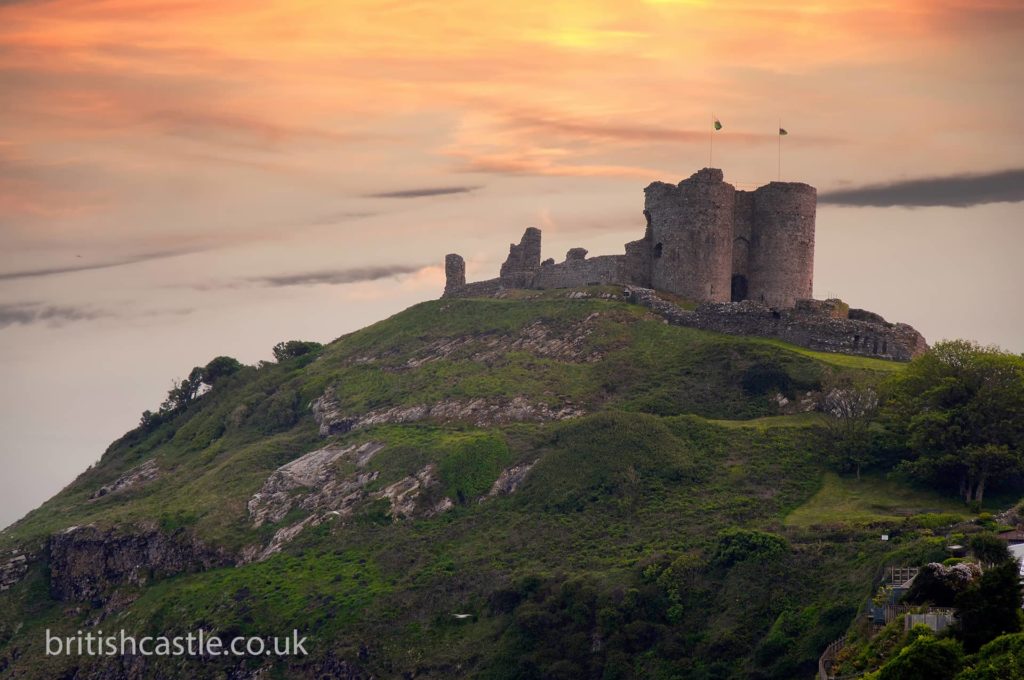 Criccieth castle is also situated right on the coast, giving visitors the pleasure of exploring the castle's grounds, wander through the ruins, and even experience a little beach time.
What's also worth mentioning is the town of Portmeirion, which is a 20-minute drive from Criccieth and closely resembles the architectural style of Southern Italy.
Speaking from experience, it's a beautiful wonder you wouldn't want to miss out on.
Other Castles Worth Mentioning
If you have time to spare, other beautiful and stunning castles you should also visit include:
Dolwyddelan castle
Rhuddlan castle
Penrhyn castle
Roch castle
Although only the remains of some of these castles are what's left for tourists to see, this small yet significant piece of history that dates back as far as the 11th and 12th century still makes them remarkable tourist locations.
If you're looking for South Wales castles, Chepstow and Skenfirth are great places to visit.
How Many Castles Are In Wales?
Wales has over 400 castles stretched across this small principality and more per square mile than anywhere else worldwide. Some have existed for nearly a millennium, while others are regarded as romantic ruins.
Conclusion
400 is an incredible number to go by, and we're not saying you should visit all of them. However, the 12 castles we mentioned here are spots you won't regret visiting.
You might be wondering, "what about the other 388 options available to you in Wales?"
Well, that's the beauty of wandering and exploring the world, isn't it? And who knows, we might even read about your experiences in a travel blog or online one day.
If you've visited any of the castles we mentioned here, we'd love to hear about your experience in the comments section below.